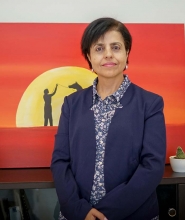 Master Program Director - Master Program In Women'S Health
Dr. Sahar Hassan, an Associate Professor of Nursing and Dean of Pharmacy, Nursing and Health Professions Faculty at Birzeit University.  Dr. Hassan is a USA graduate acquired Masters in Nursing Science from the University of Pennsylvania and PhD in Women's Health from University of Oslo, Norway. Dr. Sahar joined Birzeit University on 2004; worked as an Academic and Associate Researcher at the Institute of Community and Public Health during which she received many research grants, conducted qualitative, quantitative and operational research, trained healthcare providers in the Palestinian health sector, and supported midwives and nurses in local hospitals to translate some evidences into practice during normal childbirth, and community health workers to provide postnatal care through home-visiting program. In 2014, she collaborated with two Norwegian physicians and received a research grant in which she conducted her post-doctoral multi-center clinical research in the area of maternal e-health in the West Bank and Gaza, and supervised three Palestinian Physicians (Obstetricians) from the Ministry of Health to pursue their PhD degree at the University of Oslo. In 2016, Dr. Hassan moved to the Faculty of Pharmacy, Nursing and Health Professions, in which she continued working on her post-doctoral research, taught several courses, and served in several committees.
In the past, Dr. Hassan has a longstanding nursing and midwifery leadership experience in Palestine and the MENA region, worked in government and non-government clinical and educational organizations, led interdisciplinary national teams, carried out many national and regional professional consultancies in the area of curriculum development and evaluation for Nursing and Midwifery programs, clinical guidelines and protocols and evaluation of health workforce. She is also on the Research Advisory Network (RAN) working on the Research Agenda for ICM, a member of a multidisciplinary regional Reproductive Health Working Group (RHWG) and a co-founder of the Palestinian Midwives' National Committee. Dr. Hassan is a reviewer for many scientific peer-review Journals, has many local, regional and international presentations and many publications in peer-reviewed Journals that focus on maternal and newborn health, morbidities, complications, near miss, clinical practices and quality of care during normal childbirth, the working condition of maternal healthcare providers, reproductive health and other nursing issues.