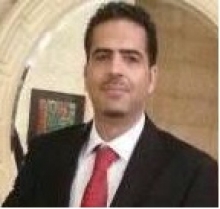 Faculty Member - Department Of Pharmacy
Pharmacist, PhD in pharmaceutical Technology now i am an Assistant Professor at Birzeit University at the Pharm D Program and at the master's program of pharmaceutical technology, my scientific skills include :
Advanced Drug formulations, pharmaceutical Technology, new Drug delivery systems, GMP, Quality control, dermal and transdermal drug delivery, Microemulsion, ethosome, Nanotechnology, HPLC analysis method development, research and drug transport through biological membranes
Preiviously Head of the R&D department at The Palestinian company for veterinary medicine, work included developing of new drug dosage forms including, parenterals, ointments, solutions, suspensions, emulsions. Also several formulation, stability and production problems were approached.
Instrumet experience include HPLC, diffusion cells,dynamic light scattering, tablet production equipmenrs, and pharmaceutical quality control related equipments.
Also i have experience in community pharmacies and local drug market.
1- Formulation and evaluation of oral biphasic drug delivery system
Abstract: In the present study, a newly innovative drug delivery system of biphasic Metronidazole (MTZ) tablet has been studied. An attempt was made to improve the patient's adherence and the potential clinical outcomes by reducing the dosing frequency by formulating bilayer tablets containing Metrodinazole. Each bilayer tablet is composed of a sustained release (SR) layer and an immediate release (IR) layer for rapid drug release. Five different formulations of bilayer tablets were formulated using HPMC as hydrophilic polymer to retarded the drug release and the effect of Starch and MCC on the release profile were evaluated. Wet granulation method was used to prepare granules of the immediate and sustained release layers. The tablets were evaluated for their physical parameters and all valuesobtained found to be within the acceptable limits. The dissolution test has been carried out using the USP type II rotating paddle. Collected samples were analyzed using the high performance liquid chromatography. The mechanisms of Metrodinazole release from the sustained release layer were fitted into zero-order, first order, Higuchi, Hixon- Crowell model and Korsmeyer-Peppas release model. The results of the dissolution profiles showed that the drug release from the sustained release layer varied depending on the amount of HPMC and the presence of Starch or MCC. The kinetics of the release of MTZ from the different formulations showed good fitting with Higuchi model with correlation coefficients (R2) of 0.9965 - 0.9985. From values obtained for the diffusional exponent, n, Korsmeyer-Peppas equation observed that for all the formulations n value ranged from 0.4662 to 0.5370, and this demonstrates that the release mechanism followed non-Fickian type of release
2- Optimization of dermal applications of antifungal drugs with novel colloidal drug carrier systems. Istanbul University, Institute of Health Science,Department of Pharmaceutical Technology. PhD Thesis. Istanbul.The aim of this study was to optimize microemulsion colloidal drug carrier systems for topical applications, as an alternative for the widely used conventional dosage forms of voriconazole and sertaconazole which are azole derivative antifungal drugs used in treatment of fungal infections. Therefore, it is intended to have advantages in the enhancement of penetration into different layers of the skin with innovative topical microemulsion formulations over conventional topical dosage forms of the antifungal drugs which are chosen in the scope of this study. In this thesis study, microemulsion optimization studies were carried out using different oils, surfactants, cosurfactants and their various ratios to form microemulsions containing two different antifungal drugs (voriconazole and sertaconazole). Optimized
formulations were characterized for droplet size, polydispersity index, pH, conductivity, refractive index and optical isotropy measurements. Physical stabilities of the formulations and in vitro release characteristics of the active ingredients from microemulsions were examined. In vitro dermal distributions of the drugs loaded in the selected microemulsion formulations were compared with their conventional dosage forms. The distributions of each drug in different layers of the skin were calculated quantitatively using tape stripping method. The effects of microemulsions on the integrity of stratum corneum structure were evaluated with ATR-FTIR spectroscopy analysis. The data in this study was interpretted, it was shown that microemulsion formulations loaded with two different antifungal drugs can be suggested as an alternative topical carrier for the treatment of fungal infections.
3- Preparation of topical Orphenadrine citrate and investigating the Effect of different penetration enhancers on drug permeation rate
Abstract
Orphenadrine citrate is a muscle relaxant that is marketed as tablets and ampoules, topical preparations are promising due to the ease of application and acceptability by the patients, but they are not effective because they do not penetrate the skin well. The aim of this thesis is to investigate the effects of some penetration enhancers on permeation of newly developed orphenadrine citrate gel, as a model of semisolid topical muscle relaxant preparation. In the first phase the experiment diffusion parameters of (1% w/v) orphenadrine citrate (OC) alone in aqueous solution was specified and used as a reference control to measure the effects of different penetration enhancers on its permeability. In the second phase, gel formulations with 1% OC were used as a reference to measure the effects of the best PE on its permeability in gel preparation, also the effect of viscosity, and type of gelling agent on drug permeation rate were studied. In the third phase a human skin was used to test the permeation of OC from the selected gel-penetration enhancer system. Modified Franz diffusion cell was used in this in-vitro study. In the first and second phases the membrane was composed of octanol soaked filter membrane sandwiched between two layers ofdialysis membrane. The receiver is filled with phosphate buffer pH 7.4. The donor compartment contained 5ml solution of (OC) in aqueous phase and 5 g in gel phase. In the third phase, the stratum corneum of fresh and healthy skin sample obtained from a 42-years old female was used to separate the receiver and donor compartments. Samples of 1 ml volume were taken from the phosphate buffer at the receiver compartment after the first hour, and every half an hour later on up to (6) hrs for each experimental sample. OC was quantified by using HPLC at = 220 nm. The solubility of orphenadrine citrate was determined in water and in phosphate buffers with different pHs. The highest solubility was found in phosphate buffer pH 7.4 with a value of 2.43 g/100ml.
The compatibility of orphenadrine citrate was tested with different excipients (HPMC, CMC Na, PG, MP, Tween 80, Cremophore, SLS, Urea, carbapol, Oleic acid, glycerin ) for three months at room temperature and 40 ºC. It was found that OC is compatible with all excipients except with carbapol and SLS, while Urea was compatible at room temperature only. Also O.C showed stability over a wide range of pH values.
The penetration enhancers (PE) under investigation were Cremophor RH40, Tween 80, Sodium Lauryl Sulphate, Propylene Glycol, -Cyclodextrin, and Urea. They were added in 1% concentration to 1% OC in the donor compartment. Diffusion parameters determined were cumulative amount, slope and intercept of cumulative amount which is plotted versus time, TL,
D, P, and K. The (ER) was used as criteria for selecting the best penetration enhancer. The enhancement ratio of the penetration enhancers studied in aqueous phase has been found to increase in the order of: PG < Tween80 < Cyclodextrin < Urea < Cremophore RH40. Different trials of gel were formulated using HPMC and CMC Na as gelling agent including 1% OC and 0.2% to 1.0% of the selected penetration enhancer. The study was conducted using the same MFDC and analytical method. The HPMC gel containining 1%API and the selected penetration enhancer (Cremophor RH40) showed significant higher enhancement ratio than the CMC Na. gel, and as the PE concentration increased the ER increased for both types of gelling agents formulas.  The final gel formula with the optimal concentration of penetration enhancer was then tested for permeation through healthy human skin. The API showed good penetration through the skin with a permeability coefficient of 0.0009 cm/hr.