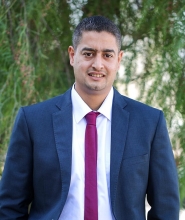 Director - Office Of Grants And Contracts
Vrije Universiteit Brussel
Amir Khalil is an Assistant Professor at the Department of Law, Faculty of Law and Public Administration, Birzeit University. His current position is the Director of the External Academic Relations Office, Director of the Grants and Contracts Office at Birzeit University. He is also a a research fellowat the Centre of Private and Economic, Faculty of Law and Criminology, Vrije Universiteit Brussel, Belgium. Khalil obtained his PhD in law from the Center of Private and Economic Law, Vrije Universiteit Brussel (VUB) (Brussels, Belgium, 2013); Master degree in the EU International Relations and Diplomacy Studies from the College of Europe (Bruges, Belgium, 2012); LL.M Master Degree in the International and European Law from Vrije Universiteit Brussel (Brussels, Belgium, 2008), Bachelor degree in law from the Arab American University (Palestine, 2007). Khalil' s teaching and research interests concentrate on civil and commercial law, private international law, international commercial arbitration, rule of obligations, international commercial contracts, mainly; franchising, leasing, factoring, technology transfer and the e-contracts. He has many participations in local and international conferences.
"The Need for Legal Framework to Regulate Franchising in Palestine", in the Global Journal of Comparative Law 6 (2017) 206-225.
 "To what extent does the European Union Promote Democracy Effectively in the Occupied Palestinian Territories?", Working paper, Arab Reform Initiative, Arab Research Support Programme II, 2017.
"Trade relations between the EuropeanUnion and Palestine: Assessment and Potential improvements", Working paper, 2016.
"The impact of Palestinian accession to the New York Convention on the Recognition and Enforcement of Foreign Arbitral Awards", paper for the Law and Economic Development in Palestine Conference, Birzeit University, Ramallah, Palestine, 2015.
 "Consumer Protection under the Franchising Contracts", Paper for the Consumer Protection through Palestinian Law Conference, Birzeit University, Ramallah, Palestine, 22 October, 2014.
"Towards a Legal Framework for Regulating Franchising in Palestine: A Comparative Study", PhD Thesis, Vrije Universiteit Brussel, Belgium, 2013.
"The Legal Aspects of Protecting and Promoting the Local Products", paper for the 9th edition of the International Days of Marketing at Cadi Ayyad University, Marrakesh, Morocco, February 26 to March 1, 2013.