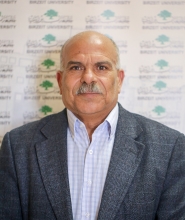 Faculty Member - Department Of Languages And Translation
Al-Najah National University
  Brief Bio:
I got my B.A. in English Language/Philosophy from the University of Jordan in1980,  my Teaching Diploma from UNRWA/UNESCO Institute of Education in 1984, my M.A. in Methods of TEFL  from An-Najah National University in1997 ( with a thesis). I am currently working on my Ph.D. by research in applied linguistics at UAM in Madrid-Spain.I was awarded two short-term courses by the British Council in 1987 to Lancaster University and in 1992 to Leeds University.I  have worked at UNRWA high colleges- KTC, RMTC and ESF- for 24 years. During that time, I had the chance to teach different English courses, to work as a Translator with the UN programme at UNRWA/ FO in Jerusalem, and as a part-time instructor of English at Al-Quds University and Birzeit University. After I had left UNRWA in 2008, I was appointed as a full- time teacher of English at the Arab American University –Jenin. This long teaching experience has enabled me to stand a chance to get a full-time job at Birzeit.  I have been working with Birzeit University as instructor of English at the Department of Languages and Translation since the first semester of the academic year 2011-2012.
1-     
Towards a class-centered approach to EFL teaching in the Palestinian context." A publication in  www.ccsenet.org/elt  URL: http://dx.doi.org/10.5539/elt.v4n4p65
2-     
 " A Teacher's Perspective: How do EFL teachers make classroom English learning difficult?" A paper presented at the Educational Conference held at the Arab American University -Jenin on 17 March, 2010. 
3-     
Towards a class-centered approach to EFL teaching" A paper presented  at The Third Quality English Teaching Symposium held at Birzeit  University on November 13, 2011.
4-     
"A Perspective: Five Ways of Changing University Students' Perception of Classroom English Language Learning"  A paper I presented at  the International Conference: Foreign Languages for Academic Purposes which was jointly held by BZU French Department and the Department of Languages and Translation on 26 September 2012.
5-     
 I am a co-author of  a forthcoming research paper on " Early EFL Learning : Does it Meet  University Expectations ?A Case Study of  Birzeit University". 
6-  "How to Change Students' Perception of Classroom EFL learning." In
Arab World English Journal (AWEJ).Vol.6 No.1.2015, pp159-168.  http://www.awej.org
Article link: http://www.awej.org/index.php?option=com_content&view=article&id=623:adnan-i-abu-ayyash&catid=54&Itemid=167