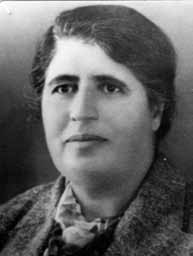 Nabiha Nasir was the co-founder of Birzeit School and a prominent activist in the movement for women's rights, like many upper and middle class women in Palestine during the first half of the twentieth century.
In October 1938, Nasir addressed the Eastern Women's Conference in Cairo, defending Arab unity as a way to encounter the threats faced by Palestine. Nasir said: "We must not allow difficulties to stand in the face of our nation's unity, as the Arab nation shares common language, customs and religion. We must take advantage of our natural treasures for our benefit and not for the benefit of others, and enact laws and regulations to meet our interests, and not the foreigners' interests. I'm here on behalf of Palestine to file a complaint by this poor Arab country that strongly resisted the aggressor. I feel that there is no life for the Palestinians, unless they become an integral part of the Arab world. I believe that the whole Arab nation will come to support and save bleeding Palestine."
Huda Shaarawi, the prominent Egyptian feminist, sent a letter dated February 28, 1946 to Nabiha Nasir proposing that they should work together on women's rights issues, a cause to which both were committed.