Artist Talk: Lara Khaldi, Ade Darmawan & Mirwan Andan
The Faculty of Art, Music and Design is organizing an artist talk with members of the artistic team of documenta fifteen: the Palestinian curator Lara Khaldi and Ade Darmawan (artist) and Mirwan Andan (researcher) of ruangrupa, Indonesia.                
If you are interested in this event, please find the Zoom meeting details below:
Join Zoom Meeting
https://us02web.zoom.us/j/85413033961?pwd=RSticlgxM3BCUHcxNEt0bUJ2cE04dz09
For more information about documenta fifteen, please check the link below: 
https://documenta-fifteen.de/en/about/
For more information about ruangrupa, please check the link below:
https://ruangrupa.id/en/about/
Lara Khaldi
Lara Khaldi is a cultural worker from Jerusalem, Palestine, living temporarily in Amsterdam. She is a member of the artistic team of documenta fifteen. Till recently she was the head of the Media Studies Programme at Alquds Bard College, Jerusalem. She has curated projects and symposia in Palestine and abroad, some of which are; Shifting Ground, Sharjah Biennial 13 project in Ramallah (2017), Walter Benjamin in Palestine, Birzeit University and International Academy of Art, Palestine (2015), Jerusalem Show (2011, 2012), Al-Ma'mal Art Foundation.
She has also contributed to a number of publications such as Phantom Archive in Time has Fallen Asleep in the Afternoon Sunshine, Mousse Publishing, 2019, The Impossible Museum in Of(f) Our Times, Sternberg Press, 2019 and edited a number of publications among the latest is In Aching Agony and Longing I Wait for you at the Spring of Thieves, on artist Jumana Emil Abboud's work, Black Dog Press, 2018.
Ade Darmawan
Darmawan lives and works in Jakarta as an artist, curator and director of ruangrupa. He studied at Indonesia Art Institute (ISI), in the Graphic Arts Department. In 1998, a year after his first solo exhibition at the Cemeti Contemporary Art Gallery, Yogyakarta (now Cemeti Art House), he stayed in Amsterdam to attend a two-year residency at the Rijksakademie Van BeeldendeKunsten. His works range from installation, objects, drawing, digital print, and video.
Exhibitions include "Magic Centre" (solo show held both in Portikus, Frankfurt, 2015, and Van AbbeMuseum, Eindhoven, 2016), Gwangju Biennial and Singapore Biennale (both 2016) and "Doing Business with the Dutch" (Lumen Travo Gallery, Amsterdam, 2018). As a curator, he has contributed in Riverscape in-flux 2012, Media Art Kitchen 2013, Condition Report 2016, and Negotiating the Future: 6 th Asian Art Biennial in Taiwan. Together with ruangrupa, he co-curated TRANSaction: Sonsbeek 2016. From 2006-09, he was a member of Jakarta Arts Council, which led him to be appointed to become the artistic director of Jakarta Biennale in 2009. He is the executive director of Jakarta Biennale during its 2013, 2015 and 2017.
Mirwan Andan
Andan studied at the Islamic Boarding School for 6 years in Watampone and Makassar. From 1999–2004, he studied French Literature at the Universitas Hasanuddin, Makassar. In 2012, he graduated from Political Science in the Universitas Indonesia, while working in ruangrupa as a researcher and developer since 2007. He took part in Jakarta Biennale 2015 as researcher and co-curated TRANSaction: Sonsbeek 2016 in Arnhem, NL. 
His writing and book editorial works include All for Jakarta – a note on the tenth anniversary of ruangrupa: Decompression #10, Expanding the Space and Public (Journal of Inter-Asia Cultural Studies, 2011); and 20Kuldesak: Networking, Rebelling, Maneuvering, Moving (Kuldesak Network, 2018).
Some international forums he has participated in are Independent Creative Art Spaces Leadership Training, Trans Europe Halles & ASEF (Paris, 2007); Enhancing Asia-Europe Meeting Visibility Through Cultural Visibility, ASEF (Halong Bay, 2010); State of Independence: A Global Forum in Alternative Space, Roy And Edna Disney California Arts (Los Angeles, 2011); Youth Initiative and Civic Engagement Training, UNESCO (Jakarta, 2013); Inter-Asia Cultural Studies Society Conference (Surabaya, 2015); Berlin Meeting, Responsibility of Religions for Peace, Federal Foreign Office of Germany and Ministry For Foreign Affairs of Finland (Berlin, 2018) and Ministerial to Advance Religious Freedom, U.S. Department of State (Washington D.C., 2018). From 2016-2018, he worked as advisor for Director General of Culture, Ministry of Education and Culture, Republic of Indonesia. Later he co-founded Inisiatif Rukun and Nasaruddin Umar Office in early 2018, as endeavors to identify, conserve and disseminate the values of harmony and moderate Islam in Indonesia and globally.
He now lives in two cities, back and forth, Jakarta and Makassar, mainly for family reasons. He recently opened a small library called Riwanua, at Gudside, Jakarta, while continuously running a project initiative called Jalur Timur in Makassar with his fellow researchers, artists, and cultural activists.
This artist talk is supported by the A. M. Qattan Foundation through the 'Visual Arts: A Flourishing Field' (VAFF) Project, funded by Sweden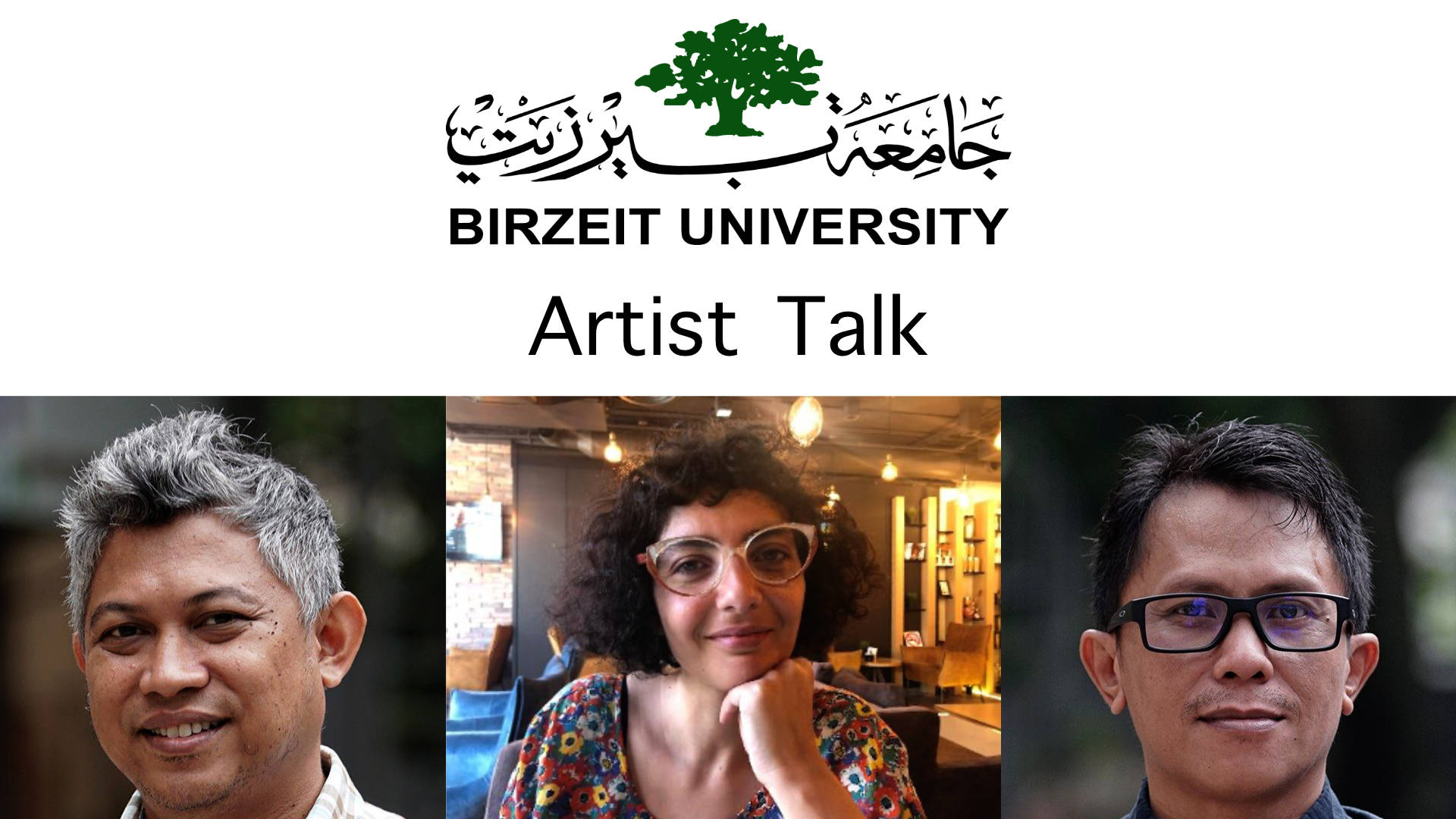 Confirm attendance/participation?:
No