University alumna Montaha Anjass leads research efforts on next-gen battery technology
To call Montaha Anjass perseverant would be an understatement. 
The 32-year-old mother of three is well on her way to becoming a professor at Helmholtz-Institut Ulm, where she researches the next generation of batteries, examining how organic and inorganic material can be married to create high-capacity batteries that can be easily recycled.
The journey that took Anjass from Birzeit University's hallways to one of the leading electrochemical-energy research institutes in Europe was not easy, yet it serves as proof that dedication does pay off — sometimes more than anyone could have imagined. 
A rocky start 
Anjass had always dreamed of pursuing higher education in Germany. After finishing high school, she applied to a number of German universities. Unfortunately, she was not able to obtain a study visa, so she applied to Birzeit University, enrolling in the chemistry program offered by the Faculty of Science. "I felt welcomed at Birzeit University, and this reflected on my academic performance," said Anjass, who finished her first term with an overall grade of 93 — one of the highest at the university. 
Throughout her four-year bachelor's program at Birzeit University, Anjass consistently ranked at the top of her cohort, finishing her degree with distinction. She tried anew to pursue higher education in Germany, applying to the DAAD (German Academic Exchange Service) scholarship and several master's programs. Sadly, her DAAD application was unsuccessful. She enrolled in the applied chemistry master's program at Birzeit University and, in the process, received an assistantship due to her excellent academic record. 
One day, nearly a year into her master's program, Anjass received an envelope while working in her office on campus. The envelope was labeled "Ulm University" and contained a letter confirming that Anjass had been accepted into the university's advanced material master's program. 
On one hand, this was everything Anjass had ever wanted: an opportunity to study at one of Germany's finest higher education institutions. On the other, she had her career at Birzeit University, in addition to a husband and a child whom she would leave behind at least until her new application to the DAAD scholarship is accepted. 
New beginnings 
Anjass made her decision. Near the end of 2013, she traveled to Germany to begin her studies at Ulm University, leaving behind her husband and child — while being seven months pregnant. The plan was to use her savings to support herself until her DAAD scholarship application would be accepted, then her husband and child can join. 
After waiting for five months alone, the unexpected happened: her DAAD application was refused. For Anjass, and her family back home, hope was running out. With help from her supervisor and Ulm University's international office, however, Anjass was able to obtain an assistantship and a small scholarship, both of which helped to secure the family's reunion in 2014. 
With her family by her side, Anjass was able to focus on her studies, finishing her master's degree by 2015 and immediately starting her Ph.D., researching the use of metal oxides for energy storage.
Anjass' dissertation, which she completed with the highest distinction (summa cum laude), won her a 5000 euro scholarship from the Südwestmetall employer's association. The association grants yearly awards and scholarships to young researchers whose efforts help develop and improve electrical and mechanical industries in Germany and the world.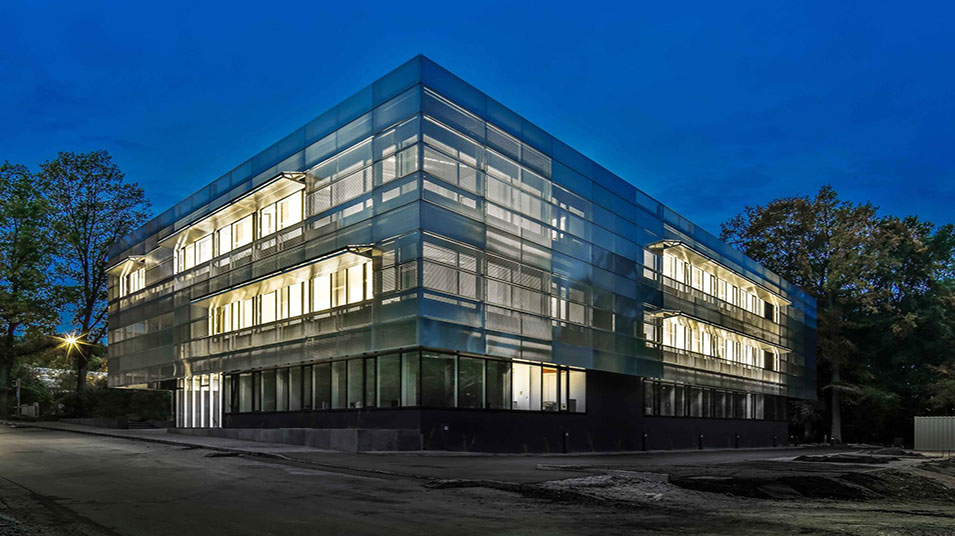 Helmholtz-Institut Ulm in Ulm, Germany, where Anjass is working on the next generation of batteries. Photo credit: Helmholtz-Institut Ulm via Facebook. 
World-changing research 
Anjass' dedication and commitment did not go unnoticed. In 2017, she received the Mileva Einstein Marić Prize, which honors women who balance groundbreaking research with family responsibilities. Anjass was also chosen as a finalist for the 2020 Reaxys PhD Prize, which recognizes innovative and robust research in chemical sciences. Recently, she was awarded the Margarete von Wrangell scholarship, which provides excellent female researchers with the means to pursue post-doctoral research. 
Currently, Anjass is a junior research group leader at Helmholtz-Institut Ulm, where she is researching how to manufacture and produce sodium- and magnesium-based batteries that will power tomorrow's smart cities and driverless electric cars. 
As for the future, Anjass is looking forward to cooperating with researchers on safer, greener, and more efficient energy storage. She plans on establishing research projects between Birzeit University and Ulm University and is working on papers and projects with Birzeit University chemistry professors Talal Shahwan and Hijazi Abu Ali.