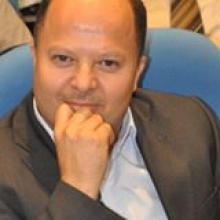 Faculty Member - Department Of Nursing
1. Jamal A.S. Qaddumi, Omar Almahmoud.Pressure Ulcers Prevalence and Potential Risk Factors Among Intensive Care Unit Patients in Governmental hospitals in Palestine: A Cross-sectional Study. The Open Public Health Journal, 2019, 12: 121-126. http://dx.doi.org/10.2174/1874944501912010121
2. Jamal A.S. Qaddumi, Omar Almahmoud.Prevalence and Features of Pressure Ulcers among Patients in ICU Department of Governmental Hospital in Palestine: Cross Sectional. International Journal of Nursing, 2018, 5: 72-80. https://doi.org/DOI: 10.15640/ijn.v5n2a6
3. Akkawi MT, Shehadeh MM, Shams ANA, Al-Hardan DM, Omar LJ, Almahmoud OH, et al. Incidence and risk factors of retinopathy of prematurity in three neonatal intensive care units in Palestine. BMC Ophthalmology. 2019;19(1):189.https://doi.org/10.1186/s12886-019-1180-4
4. Alkaissi, A., Said, N., Almahmoud, O., Al-ziben, L., & Zaitoun, R. (2019). Personal characteristics and behavioral factors that promote resilience among nurses: a cross-sectional study. Palestinian Medical and Pharmaceutical Journal (PMPJ), 4(2): 73-87
5. Qaddumi, J. A., Almahmoud, O. M., Alamri, M. S., & Maniago, J. D. (2019). Competency In Electrocardiogram Interpretation Among Registered Nurses In Private And Government Hospitals In Nablus, Palestine. Majmaah Journal of Health Sciences, 7(3): 70-81.
6. Qaddumi, J., Almahmoud, O., Khurasani, A., Alkhawaldeh, A., & Khraisat, O. (2019). Incidence of pressure ulcers and its related variables among critically ill adult patients in Palestine. Palestinian Medical and Pharmaceutical Journal (PMPJ), 4(2): 55-61
7. Abuejheisheh, A., Tarawneh, O., Qaddumi, J. A. S., Almahmoud, O., & Darawad, M. W. (2020). Predictors of Intensive Care Unit Nurses' Practice of Evidence-Based Practice Guidelines. INQUIRY: The Journal of Health Care Organization, Provision, and Financing. https://doi.org/10.1177/0046958020902323
8. Qaddumi JA, Al-Tell M, Almahmoud O, Issa DT, Alamri MS, Maniago JD, et al. Physiological and psychosocial stressors among Palestinian hemodialysis patients:A cross-sectional study. Saudi J Health Sci 0;0:0. DOI:10.4103/sjhs.sjhs_88_19
9. Asmar, I. T., Alrajoub, B. M., Almahmoud, O. H., Nakhleh, D. N., Makharzeh, S. I., & Falaneh, Y. M. (2020). Nurses' Attitude, Behavior, and Knowledge Regarding Protective Lung Strategies of Mechanically Ventilated Patients. Critical Care Nursing Quarterly, 43(3), 274-285
10. National Neonatal Protocol, A Manual of Neonatal Care in Palestine. (2019).
  https://www.pmc.ps/cached_uploads/download/2019/11/26/nnp-final-print-6-november-2019-1-1574767516.pdf
11. Almahmoud, O. (2021). Do newborns really don't talk, or are we just not skillful enough to understand them?. Journal of Neonatal Nursing.   https://doi.org/10.1016/j.jnn.2021.03.009
12. Almahmoud OH. Florence Nightingale: An acronym of tribute. (2021, May 19). American Nurse. https://www.myamericannurse.com/florence-nightingale-inspiration/ 
13. Almahmoud, O. H. (2021). A nurse is a gift to older parents with COVID-19: One nurse's story. Nursing made Incredibly Easy, 19(6), 47-51. doi: 10.1097/01.NME.0000793084.77160.c1 https://www.ncbi.nlm.nih.gov/pmc/articles/PMC8500207/