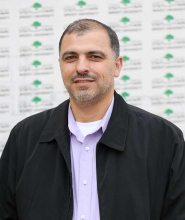 Faculty Member - Department Of Electrical And Computer Engineering
Name: Khader Mohammad                       Tel :0592961614 E-mail :

[email protected]
EDUCATION
PhD in Electrical & Computer Engineering, December 2010, University of Texas at San Antonio, USA
MS, Electrical and Computer Engineering, 1999, Portland State University, USA
BS, Electrical Engineering, 1996, Birzeit University, Ramallah, Palestine
Academic experience –
Associate  Professor at Birzeit University, Palestine                                        (9, 2012 – Present)
o    Teaching services :
Teaching senior level classes and supervising senor projects and Master thesis.
Developed, prepared and delivered new course (5) and new lab experiments for two labs
Taught 22 different courses in 5 years.
Supervised and graduated three Master student( one thesis and two seminars) and was committee lead/reviews for other four student
Supervise graduation project (more than 24) , some with collaboration with industry example of outstanding projects : Arabic Question Answering: Systems, Resources, Tools, Software defined network, door and window image based measurements application, Functional Safety in cars, ..etc
Master program committee members work on proposal in establishing the program and responsible for all Hardware courses
Supervised and posted new learning games as outcome of class on youtube
Part of committee working on techno park to encourage company to be part of the techno park and encourage innovation
Helped and lead establishing first hardware board design lab with Local industry at ASAL. The company employed 20 of our Electrical engineering student in that lab. This will enables creating more jobs for EE in board level design
Lead and developed digital lab Experiments and curriculum
Research and Developments
o    Manage and Lead as principle investigator and secure fund ($50k) from Intel and local Industry to establish and build first VLSI design Lab using stat of the art CAD tools from synopses. This enables research and open opportunity for our more graduates and local companies. It also enable international companies to support master student and innovations
o    Lead as principle owner research for Arabic optical character recognition with diacritics ($13k Fund). http://sites.birzeit.edu/bzuocr/
o    Content Address Memory research. Finalized, Completed USA Patent US Patent 9,007,799, 2015 and still following on another patent application
o    Published after joined BZU
4 conference papers in good conference in US as first author and one as second Author (student). All conferences are indexed Scopus conferences like. IS&T International Symposium on Electronic Imaging 2017 Society for Imaging Science and Technology
One patent ( completed in 2015)
11 journal ,

3 Journal as first author in Q2
3 Journal as Q3 ( One as first Author and one as 2nd Author)
1 Journal as Q4
1 Journal: Engineering letter
2 Journal in open access

Overall publication one issued patent, two pending ,11 journal, 15 conference
Google scholar H index :
Elsevier Scopus H index :
o    Leading Computer Engineering and Computer science reform effort to upgrade and enhance content and teaching method to match industrial and international future needs. Secured Fund of $47k to establish this
o    Member of TEMPUS project Team in which we secured fund of 1M EUR- Serious Game programming: Pathway within theundergraduate IT programs, SAGE – Ref number 544286-TEMPUS-1-2013-1-PS-TEMPUS-JPCR.Wrote work packages and developed game level course.
o    Lead and drive establishing agreement with top local industry in Palestine ( ASAL/EXALT/PROGINEER) to partner with the department in setting up training for verification.
o    Lead IT Expo ($15k fund), Honoring ($5k fund) and Code completion ($3k) committee and secured fund to conduct the activity
o    Secured fund for student books for two years in arrow from local industry
o    Lead , Invited External Experts and organized workshop to train our faculty in verification, VLSI and HW safety in cars
o    Help our IT student in getting Jobs and practical training while in school with Local industry
o    Supervised student from Commerce department to patent his idea with the innovation center
o    Lead and Participated in different committee like ABET, industry involvement, curriculum, Master ECE program ,… etc
Community services: Paper Reviewer and research committee members for the following :
o    IEEE Access paper reviewer , Jun 2017
o    Committee member/Chair: ASAR 2017(1st International Workshop on Arabic Script Analysis and Recognition).
o    Circuits and Systems: An International Journal (CSIJ) 2016
o    Microelectronics Journal 2015 reviewer
o    British Journal of Mathematics & Computer Science 2014 reviewe
o    VLSI Integration
o    Journal of Engineering Research and Reports 2019 reviewer
o    Electronics 2019 reviewer
o    IET Circuits, Devices Systems, 2019 reviewer
Adjunct Faculty at Texas State University, San Marcos, TX, USA,       (1, 2011- 9/2013)
o    Responsible for teaching undergraduate courses in computer engineering
o    Build a joint program between Intel and Texas State in which student can work/train with Intel.
Adjunct Faculty online, Grantham University 1, 2011- 9/2012
o    Responsible for teaching Online undergraduate courses in computer since and engineering
Lecturer - Hebron University & Al-Quds Open University – Hebron (6/1999 – 2/2000)           
Industry Management and Administration Experience
Asal Technology, Nvidia Consultant.
Intel Corporation , Manger for Senior Circuit Design, Austin, Texas, USA   (6, 2004- 9,2012)
o    Lead Atom processor full chip integration, leading power delivery. Team member across Intel on Synergy working group for On-die Power delivery and clock distribution
o    IA32 micro architecture implementation on a 32nm multi core server processor for HPC.
o    DDR3 IO design -LNC project System-on-Chip (SOC):
o    Lead on library Circuit design porting for sequential /scan cell
o    Vermilion core- Low Power Intel Architecture, Circuit design of full custom data path blocks
Hewlett Packard –Senior Post-Silicon Debug / Test Engineer – Fort Collins , CO, USA           (11, 2000 – 6, 2004)
o    Developed tool to support electrical debugs and enable serial scan stimulation of parallel test vectors.
o    Responsible for power supply analyses, simulation, and dcap optimization for daughter cards and motherboards.
o    Board/ Storage Array Controller Design.
Neeme system solutions (NSS), Board/FPGA engineer, Consultant, USA:(11, 2002 – 6, 2004)
o       Hardware design for Printed circuit board and layout. This includes development, test and performance of board-based avionics electronic control system. Digital and analog circuits, Vrtix 4 FPGA, and IO/temperature and fuel sensors
 Wireless Facilities, Inc , Field Design Engineer, - San Diago , CA , USA     (2/2000 – 11/2000)                    
o    Initial system design and dimensioning, coverage planning, site identification, frequency planning and interference analysis using Planet for initial plan, Tems for optimization and MapInfo and Netview for analyses. GSM protocol links budget analyses, path losses, and hand off windows (ideas/cases). CDMA, IS96 protocol, FDMA, TDMA analyses.
Honors and awards
Intel ATOM Silvermont Recognition Award, the highest Intel employee award 2010
Intel Itanium 2 Processor Recognition Award, the highest Intel employee award 2002
Outstanding Award – April 2006, 2007: This award provided in appreciation and recognition of delivering results beyond normal job and performance expectations.
Achieved USA Permanent Residency as an Outstanding Researcher – September 2004: This achievement are for those with "extraordinary" ability in the sciences which has been demonstrated by sustained national or international acclaim and whose achievements have been recognized in the field through extensive documentation.
Design Excellence Award – August 2001: This award honors those whose accomplishments are among the top 5% at Intel overall quality.
Intel Involve in the community award for volunteer and impact on the community
PATENS
Khader Mohammad, "Low power Design of Static Content Addressable Memory for Low-Power Application", File number is13/977,524 , US Patent 9,007,799, 2015
Khader Mohammad, Sos Agaian, "Method and Apparatus for Text Extraction, Processing, and Recognition in Visual Sensors", South Texas Technology Management (STTM), Reference number 2011.013
Requested support for 2 invention disclosure with BZU, both are under evaluation
Refereed Journal Papers
Khader Mohammad,  Aziz Qaroush, Mahdi Washha,  Sos Agaian, Iyad Tumar , " An Adaptive Text-Line Extraction Algorithm for Printed Arabic Documents with Diacritics, " Multimedia Tools and Applications Journal, Accepted Aug 2020
Khader Mohammad, Temesghen Tekeste, Baker Mohammad, Hani Saleh, Mahran Qurran, "Embedded Memory Options for Ultra-low Power IoT Devices", Microelectronics Journal , 2019 ( final minor revision) , SJR Q3 2019
Qaroush, A., Jaber, B., Mohammad, Khader, Washaha, M., Maali, E., Nayef, N., An Efficient, Font Independent Word and Character Segmentation Algorithm for Printed Arabic Text, Journal of King Saud University - Computer and Information Sciences (2019), doi: https://doi.org/10.1016/j.jksuci.2019.08.013, SJR Q2 2019
Khader Mohammad, Aziz Qaroush, Muna Ayesh, Mahdi Washha, Ahmad Alsadeh, Sos Agaian, "Contour-based character segmentation for printed Arabic text with diacritics," J. Electron. Imaging 28(4), 043030 (2019), doi: 10.1117/1.JEI.28.4.043030, SJR Q3 2019
Khader Mohammad, Aziz Qarous, Mahdi Washha, Baker Mohammad, "Low-power Content Addressable Memory (CAM) Array for Mobile Devices", Microelectronics Journal, Jul 2017, Volume 67, SJR Q3 2017
Khader Mohammad, Walid E., Alaa Alsafi," Analytical Study of Two Channels Stepping up Converter", An International Journal of Computer Engineering, Engineering Mathematics and Engineering Physics accepted Jun 2017 . Vol 4   ,                                                      
Walid Emar, Khader Mohammad, Mahdi Washaha, "Multichannel Step up converter with Magnetically Uncoupled Filters", International Journal of Power and Energy Systems, Vol. 36, No. 1, 2016 DOI: 10.2316/Journal.203.2016.1.203-6167 SJR Q3 2016
Walid E., Khader Mohammad, Mahdi Washaha, "Three-Phase Connection of Step up Regulator with Smoothing Inductors", pending publication, International Journal of Power and Energy Systems , paper with Editor
 
Khader Mohammad, Mahdi Washha, Aziz Qaroush, "Adaptive Line Segmentation Algorithm for Printed Arabic Documents with Diacritics", International Journal on Document Analysis and Recognition (IJDAR) journal, pending 2017 (pending)
Khader Mohammad, Ahsan Kabeer, TarekM.Taha, Muhsen Owaida, MahdiWashha, "OFF-Chip bus power minimization using serialization with cache-based encoding", Microelectronics Journal 54(2016)138–149 DOI: http://dx.doi.org/10.1016/j.mejo.2016.06.002, SJR Q2 2015
Khader Mohammad, Sundous Hussien, Rawan Rimawi, "Febrile Seizure Detect and Alarm System", International Journal of Recent Contributions from Engineering, Science & IT (iJES). eISSN: 2197-8581, Vol 3, No 4 (2015), pp. 4-11. DOI: http://dx.doi.org/10.3991/ijes.v3i4.4332
Khader Mohammad, Ahsan Kabeer, and Tarek Taha, "On-Chip Power Minimization Using Serialization-Widening with Frequent Value Encoding", VLSI Design Journal, Volume 2014 (2014), Article ID 801241, 14 pages. http://dx.doi.org/10.1155/2014/801241 , SJR Q4 2014
Khader Mohammad, Sos Agaian, Hani Saleh, "Arabic License Plate Recognition System", Journal of Signal Processing Theory and Applications, (2013) 1: 20-42, http://dx.doi.org/10.7726/jspta.2013002
Khader Mohammad1 and Sos Agaian, Practical Recognition System for Text Printed on Clear Reflected Material, ISRN Machine Vision Journal , Volume 2012 (2012), Article ID 253863, 16 pages, http://dx.doi.org/10.5402/2012/253863
Khader Mohammad et al. Implementation of Digital Electronic Arithmetic and its application in image processing. Journal Comput Electr Eng (2009), doi:10.1016/j.compeleceng.2009.10.002
Khader Mohammad, Bao Liu, Agaian Sos S. "Energy Efficient Swing signal generation circuits for clock distribution networks", paper ID 679853, VLSI Journal, Hindawi Publishing Corporation, Dec 2009.
Abdallah Rasheed, Khader Mohammad, Exploration and Comparison of Several AODV Implementations: A Survey, , Arab computer society Journal, Vol 2, No 2 (2009)
Khader Mohammad, Mahdi Washha, Aziz Qaroushm "An Adaptive Text-Line Extraction Algorithm for Printed Arabic Documents with", International Journal on Document Analysis and Recognition, Pending with Editor –Submitted April 2017
Published Referred Conference Papers
Muna Ayesh, Khader Mohammad, and Aziz Qaroush, "A Robust Line Segmentation Algorithm for Arabic Printed Text with Diacritics",  IS&T International Symposium on Electronic Imaging 2017, Algorithms and Systems XV, pp. 42-47(6). Publisher: Society for Imaging Science and Technology. DOI: https://doi.org/10.2352/ISSN.2470-1173.2017.13.IPAS-204
 Mohammad, Khader; Alsadeh, Ahmad; Qarabsa, Amer; Khalil, Shatha; Dirieh, Mona, "Android Door/Window Image-based Measurements Application",  Electronic Imaging, Mobile Devices and Multimedia: Enabling Technologies, Algorithms, and Applications 2017, pp. 15-21(7). Publisher: Society for Imaging Science and Technology.DOI: https://doi.org/10.2352/ISSN.2470-1173.2017.6.MOBMU-299. http://www.ingentaconnect.com/content/ist/ei/2017/00002017/00000006/art00003?
Khader Mohammad, Iyad Tumar," Optimized large-capacity content addressable memory (CAM) for mobile devices". IS&T/SPIE , Mobile Devices and Multimedia: Enabling Technologies, Algorithms, and Applications 2015, ID-9411-13, Feb,2015 USA
Khader Mohammad, Muna Ayesh, Aziz Qaroush, "Printed Arabic optical character segmentation, IS&T/SPIE, Image Processing: Algorithms and Systems XIII , ID 9399-36, Feb,2015 USA
Khader Mohammad, Sundous Hussain and Rawan Rimawi, High Accuracy and Low cost Febrile Seizure Detect and Alarm System, Fifth Annual Undergraduate Research Conference on Applied Computing, Zayed University, May 2013
Khader Mohammad, et al., "Curved solid and dotted line characters segmentation and classification", Intelligent Robots and Computer Vision XXVIII: Algorithms and Techniques,  IS&T/SPIE Electronic Imaging, SPIE PAPER NUMBER: 7878-27 .(Oral) 2011,
Khader Mohammad, et al., "Practical automatic Arabic license plate recognition system ", Multimedia on Mobile Devices 2011 ,  IS&T/SPIE Electronic Imaging 2011 , SPIE PAPER NUMBER: 7881A-32.(Poster),2011
Khader Mohammad, et al., "Practical vision based degraded text recognition system ", Multimedia on Mobile Devices 2011 , IS&T/SPIE Electronic Imaging, SPIE PAPER NUMBER: 7881A-29.(Poster)   Accepted January 2011
Khader Mohammad, Sos Agaian and Fred Hudson, "Implementation of digital electronic arithmetic's and its application in image processing", paper ID p0112,IEEE International Conference,SMC2009, October 11-14, 2009, San Antonio, Texas, USA
Khader Mohammad, Sos Agaian, Fred Hudson "Efficient FPGA Implementation Of Convolution, paper ID 3922, SMC2009 IEEE International Conference, October 11-14, 2009, San Antonio, Texas, USA  
Khader Mohammad, Bao Liu, Agaian Sos S. "Energy Efficient Swing signal generation circuits for clock distribution networks", paper ID 1100, 2009 IEEE International Conference, October 11-14, SMC2009, San Antonio, Texas, USA
Hani Saleh, Agaian Sos S., Khader Mohammad, "Digital Forensics: Electronic Evidence Collection, Examination and Analysis by Using Combine Moments in Spatial and Transform Domain", paper ID p0694 , 2009 IEEE International Conference, October 11-14, 2009, San Antonio, Texas, USA
Baker M., Tauseef Rab, Khader Mohammad, and M. Aater Suleman3 "Dynamic Cache Resizing Architecture for High Yield SOC", International Conference on IC Design and Technology, May 8, 2009. , AUSTIN, TX
SKILLS
Leadership skills: lead and manage teams across sites.
Programming: Matlab (Tool-boxes, signal processing, image acquisition), C, Perl, Sed, UNIX, netbatch, Pascal, MS access
VLSI Design: Highly skilled with many VLSI CAD tools such as clockworks, Redhawk for power analyses, Platocbd , tango , spice, ORCAD, PathMill, FC timing plus, extraction tool carmel, Formal verification FEV, conformal, switch-level simulation - NGSHARK, Schematic and layout editor "Piglet", Opus, safran, galaxy, geneses and reliability tool (Classify for RV). Verilog, Synopsys Design Compiler, ICC, Primetime & Jupiter, Verdi, Cadence Virtuoso, HSPICE , PSPICE.
Simulators: presto, hspice , ispice, akas, charrom, bake, run_curvs, csim. C, xilinix ISE, MODELSIM
Bus Protocols: Intel x86 bus architectures, Intel P6 (Foster), Intel Mckinley, PCI, PCI2.2, PCI-X, Infiniband, SCSI, SAS, SATA and many other proprietary bus architectures
Lab Debug/Test Equipment: Used and familiar with various lab debug equipment like Oscilloscopes,
Logic Analyzers, Signal Generators, In-Circuit Emulators, Spectrum Analyzers
Technologies: TCP/IP, ATM, Ethernet, SONET, Storage Area Network (SAN), Network Attached Storage (NAS), telecommunications and Digital Signal Processing
Signal Integrity Tools: Mentor, ADS, HSPICE, and Scsi Analyzer, PSPICE
PATENS
Khader Mohammad, "Low power Design of Static Content Addressable Memory for Low-Power Application", File number is13/977,524 , US Patent 9,007,799, 2015
Khader Mohammad, Sos Agaian, "Method and Apparatus for Text Extraction, Processing, and Recognition in Visual Sensors", South Texas Technology Management (STTM), Reference number 2011.013
Requested support for 2 invention disclosure with BZU, both are under evaluation
Refereed Journal Papers
Khader Mohammad, Temesghen Tekeste, Baker Mohammad, Hani Saleh, Mahran Qurran, "Embedded Memory Options for Ultra-low Power IoT Devices", Microelectronics Journal , 2019 ( final minor revision) , SJR Q3 2019
Qaroush, A., Jaber, B., Mohammad, Khader, Washaha, M., Maali, E., Nayef, N., An Efficient, Font Independent Word and Character Segmentation Algorithm for Printed Arabic Text, Journal of King Saud University - Computer and Information Sciences (2019), doi: https://doi.org/10.1016/j.jksuci.2019.08.013, SJR Q2 2019
Khader Mohammad, Aziz Qaroush, Muna Ayesh, Mahdi Washha, Ahmad Alsadeh, Sos Agaian, "Contour-based character segmentation for printed Arabic text with diacritics," J. Electron. Imaging 28(4), 043030 (2019), doi: 10.1117/1.JEI.28.4.043030, SJR Q3 2019
Khader Mohammad, Aziz Qarous, Mahdi Washha, Baker Mohammad, "Low-power Content Addressable Memory (CAM) Array for Mobile Devices", Microelectronics Journal, Jul 2017, Volume 67, SJR Q3 2017
Khader Mohammad, Walid E., Alaa Alsafi," Analytical Study of Two Channels Stepping up Converter", An International Journal of Computer Engineering, Engineering Mathematics and Engineering Physics accepted Jun 2017 . Vol 4   ,                                                      
Walid Emar, Khader Mohammad, Mahdi Washaha, "Multichannel Step up converter with Magnetically Uncoupled Filters", International Journal of Power and Energy Systems, Vol. 36, No. 1, 2016 DOI: 10.2316/Journal.203.2016.1.203-6167 SJR Q3 2016
Walid E., Khader Mohammad, Mahdi Washaha, "Three-Phase Connection of Step up Regulator with Smoothing Inductors", pending publication, International Journal of Power and Energy Systems , paper with Editor
 
Khader Mohammad, Mahdi Washha, Aziz Qaroush, "Adaptive Line Segmentation Algorithm for Printed Arabic Documents with Diacritics", International Journal on Document Analysis and Recognition (IJDAR) journal, pending 2017 (pending)
Khader Mohammad, Ahsan Kabeer, TarekM.Taha, Muhsen Owaida, MahdiWashha, "OFF-Chip bus power minimization using serialization with cache-based encoding", Microelectronics Journal 54(2016)138–149 DOI: http://dx.doi.org/10.1016/j.mejo.2016.06.002, SJR Q2 2015
Khader Mohammad, Sundous Hussien, Rawan Rimawi, "Febrile Seizure Detect and Alarm System", International Journal of Recent Contributions from Engineering, Science & IT (iJES). eISSN: 2197-8581, Vol 3, No 4 (2015), pp. 4-11. DOI: http://dx.doi.org/10.3991/ijes.v3i4.4332
Khader Mohammad, Ahsan Kabeer, and Tarek Taha, "On-Chip Power Minimization Using Serialization-Widening with Frequent Value Encoding", VLSI Design Journal, Volume 2014 (2014), Article ID 801241, 14 pages. http://dx.doi.org/10.1155/2014/801241 , SJR Q4 2014
Khader Mohammad, Sos Agaian, Hani Saleh, "Arabic License Plate Recognition System", Journal of Signal Processing Theory and Applications, (2013) 1: 20-42, http://dx.doi.org/10.7726/jspta.2013002
Khader Mohammad1 and Sos Agaian, Practical Recognition System for Text Printed on Clear Reflected Material, ISRN Machine Vision Journal , Volume 2012 (2012), Article ID 253863, 16 pages, http://dx.doi.org/10.5402/2012/253863
Khader Mohammad et al. Implementation of Digital Electronic Arithmetic and its application in image processing. Journal Comput Electr Eng (2009), doi:10.1016/j.compeleceng.2009.10.002
Khader Mohammad, Bao Liu, Agaian Sos S. "Energy Efficient Swing signal generation circuits for clock distribution networks", paper ID 679853, VLSI Journal, Hindawi Publishing Corporation, Dec 2009.
Abdallah Rasheed, Khader Mohammad, Exploration and Comparison of Several AODV Implementations: A Survey, , Arab computer society Journal, Vol 2, No 2 (2009)
Khader Mohammad, Mahdi Washha, Aziz Qaroushm "An Adaptive Text-Line Extraction Algorithm for Printed Arabic Documents with", International Journal on Document Analysis and Recognition, Pending with Editor –Submitted April 2017
Published Referred Conference Papers
Muna Ayesh, Khader Mohammad, and Aziz Qaroush, "A Robust Line Segmentation Algorithm for Arabic Printed Text with Diacritics",  IS&T International Symposium on Electronic Imaging 2017, Algorithms and Systems XV, pp. 42-47(6). Publisher: Society for Imaging Science and Technology. DOI: https://doi.org/10.2352/ISSN.2470-1173.2017.13.IPAS-204
 Mohammad, Khader; Alsadeh, Ahmad; Qarabsa, Amer; Khalil, Shatha; Dirieh, Mona, "Android Door/Window Image-based Measurements Application",  Electronic Imaging, Mobile Devices and Multimedia: Enabling Technologies, Algorithms, and Applications 2017, pp. 15-21(7). Publisher: Society for Imaging Science and Technology.DOI: https://doi.org/10.2352/ISSN.2470-1173.2017.6.MOBMU-299. http://www.ingentaconnect.com/content/ist/ei/2017/00002017/00000006/art00003?
Khader Mohammad, Iyad Tumar," Optimized large-capacity content addressable memory (CAM) for mobile devices". IS&T/SPIE , Mobile Devices and Multimedia: Enabling Technologies, Algorithms, and Applications 2015, ID-9411-13, Feb,2015 USA
Khader Mohammad, Muna Ayesh, Aziz Qaroush, "Printed Arabic optical character segmentation, IS&T/SPIE, Image Processing: Algorithms and Systems XIII , ID 9399-36, Feb,2015 USA
Khader Mohammad, Sundous Hussain and Rawan Rimawi, High Accuracy and Low cost Febrile Seizure Detect and Alarm System, Fifth Annual Undergraduate Research Conference on Applied Computing, Zayed University, May 2013
Khader Mohammad, et al., "Curved solid and dotted line characters segmentation and classification", Intelligent Robots and Computer Vision XXVIII: Algorithms and Techniques,  IS&T/SPIE Electronic Imaging, SPIE PAPER NUMBER: 7878-27 .(Oral) 2011,
Khader Mohammad, et al., "Practical automatic Arabic license plate recognition system ", Multimedia on Mobile Devices 2011 ,  IS&T/SPIE Electronic Imaging 2011 , SPIE PAPER NUMBER: 7881A-32.(Poster),2011
Khader Mohammad, et al., "Practical vision based degraded text recognition system ", Multimedia on Mobile Devices 2011 , IS&T/SPIE Electronic Imaging, SPIE PAPER NUMBER: 7881A-29.(Poster)   Accepted January 2011
Khader Mohammad, Sos Agaian and Fred Hudson, "Implementation of digital electronic arithmetic's and its application in image processing", paper ID p0112,IEEE International Conference,SMC2009, October 11-14, 2009, San Antonio, Texas, USA
Khader Mohammad, Sos Agaian, Fred Hudson "Efficient FPGA Implementation Of Convolution, paper ID 3922, SMC2009 IEEE International Conference, October 11-14, 2009, San Antonio, Texas, USA  
Khader Mohammad, Bao Liu, Agaian Sos S. "Energy Efficient Swing signal generation circuits for clock distribution networks", paper ID 1100, 2009 IEEE International Conference, October 11-14, SMC2009, San Antonio, Texas, USA
Hani Saleh, Agaian Sos S., Khader Mohammad, "Digital Forensics: Electronic Evidence Collection, Examination and Analysis by Using Combine Moments in Spatial and Transform Domain", paper ID p0694 , 2009 IEEE International Conference, October 11-14, 2009, San Antonio, Texas, USA
Baker M., Tauseef Rab, Khader Mohammad, and M. Aater Suleman3 "Dynamic Cache Resizing Architecture for High Yield SOC", International Conference on IC Design and Technology, May 8, 2009. , AUSTIN, TX