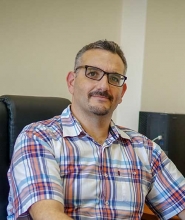 Faculty Member - Department Of Biology And Biochemistry
After graduating from College des Freres, Jerusalem in 1998, I joined Birzeit University's faculty of Science to study chemistry. My plan was to obtain a Bachelor's degree in chemistry with a minor in biochemistry. However, due to political instabilities in 2001, I transferred all my credit hours to the University of Maryland, College Park, USA, where I eventually received my B.Sc. in biochemistry in 2002 with a GPA of 3.7.
During my year as an undergraduate student at UM, I worked with Prof. Michael Ma in entomology and I also worked in the organic chemistry lab of Dr. Andrew Morehead.
Fascinated by what research has to offer, I decided to continue my studies as a graduate student. In Maryland, there are distinguished faculty members with really interesting lines of research. One of these brilliant scientists is Prof. Marco Colombini. After carefully reviewing other options, I chose to join the Colombini lab because his research was very interesting. As it turns out, I am soaked into this line until now.
Leah Siskind, then a graduate student, has just discovered ceramide channels. Ceramide is a lipid involved in cellular signaling. It is a molecule that increases in the cell before the cell dies. Leah showed that this lipid has an extraordinary feature, it forms channels in membranes. This allows proteins to move from mitochondria into the cytosol where they can perform various acts leading to the death of the cell.
My project was to find inhibitors or activators of ceramide channels using a variety of techniques. I was able to show that the precursor of ceramide, the dihydroceramide, is able to block channel formation. This was published in the journal Apoptosis. This finding was novel because it demonstrated that a metabolite in the synthetic pathway of ceramide is able to modulate its activity, hence the balance between these 2 molecules is key for cells to go from life to death.
The dihydroceramide project inspired me to look into the enzyme responsible to change the inhibitory molecule dihydroceramide to ceramide. This protein is called dihydroceramide desaturase (DDase). My question was whether this key enzyme is found in mitochondria, where ceramide channels form. I could not find the enzyme in mitochondria, but interestingly, I clearly demonstrated that ceramide produced in the endoplasmic reticulum (ER) can rapidly transfer to mitochondria because of the close proximity of these two organelles. This was published in the Journal of Lipid Research, and on the cover of the journal a picture of a ceramide channel.
I visualized these channels by transmission electron microscope and published it in Biochemica et Biophysica Acta-Biomembranes.
I finished my doctorate studies and obtained my PhD in 2006 with a GPA of 4.0, and decided that I will go back home to Palestine. I joined Prof. Anthony Futerman's lab at the department of biological chemistry at the Weizmann Institute of Science, Rehovot, Israel, in 2007 as a post-doctoral fellow. I continued to work on ceramide biochemistry. My work at the Institute consisted of characterizing the enzymes responsible for dihydroceramide synthesis, the CerS (ceramide synthases). There are 6 isoforms of these enzymes with varying specificities towards their substrates. I wanted to check the modes of activation and inactivation of these enzymes.
In August 2009, I started my job as an Assistant Professor at Birzeit University where I teach as well as perform research along the lines of ceramide. I have been working on identifying the molecules that interact with ceramide channels and discovered that different ceramides interfere with one another by blocking ceramide channel formation capabilities. This work is soon to be published.
My research interests include ceramide biosynthesis, modulation of ceramide activity in mitochondria, apoptosis and cancer treatment with ceramide. In addition to ceramide biochemistry, I have other interests such as obesity and diabetes. Currently I have two grants to study the effects of gaseous soft drinks on the onset of obesity and the intestinal microbial content of people suffering from type II diabetes.
Following a leave on a developmental grant from Birzeit University, I embarked on a journey at Michigan State University, department of biochemistry and molecular biology as a visiting faculty and research associate. I worked in the lab of Prof. Laurie Kaguni on the purification and structure-function determination of mitochondrial DNA metabolism enzymes, mainly the N-terminal domain of Drosophila melanogaster mtDNA helicase. I managed to show that this protein contains an iron-sulfur cluster that is important for its stability in vitro. These results were published in the prestigious Journal of Biological Chemistry.
M. Abed Rabbo, Y. Khodour, L.S. Kaguni, and J. Stiban (2021) Sphingolipid lysosomal storage diseases: from bench to bedside. Lipids Health Dis. 20(1): 44. doi: 10.1186/s12944-021-01466-0. PMID: 33941173; PMCID: PMC8094529.
Y. Khodour, L.S. Kaguni, and J. Stiban (2019) Iron-Sulfur clusters in nucleic acid metabolism: Varying roles of ancient cofactors. The Enzymes. 45: 225-256. doi: 10.1016/bs.enz.2019.08.003. Academic Press, Elsevier, ISSN 1874-6047
S. Albeituni and J. Stiban. (2019) Roles of ceramides and other sphingolipids in immune cell function and inflammation. Adv Exp Med Biol. 1161: 169-191.
E. Rappocciolo and J. Stiban (2019) Prokaryotic and Mitochondrial Lipids: A Survey of Evolutionary Origins. Adv Exp Med Biol. 1159:5-31.
J. Stiban (2019) Introduction: Enigmas of Sphingolipids. Adv Exp Med Biol. 1159:1-3.
A. Herminghaus, H. Papenbrock, R. Eberhardt, C. Vollmer, R. Truse, J. Schulz, I. Bauer, A. Weidinger, A.V. Kozlov, J. Stiban, O. Picker. (2019) Intensive Care Med Exp. 8;7(1):4.
D.S. Eweis, F. Abed and J. Stiban. (2017) Carbon dioxide in carbonated beverages induces ghrelin release and increased food consumption in male rats: implications on the onset of obesity. Obesity Research and Clinical Practice 11(5):534-543.
J. Stiban, M. So, L.S. Kaguni. (2016) Iron sulfur clusters in mitochondrial metabolism: Multifaceted roles of a simple cofactor. Biochemistry (Moscow) 81(10): 1066-1080.
M. Abou-Ghali and J. Stiban. (2015) Regulation of ceramide channel formation and disassembly: Insights on the initiation of apoptosis. Saudi J. Biol. Sci. 22(6): 760-772.
J. Stiban and M. Perera. (2015) Very long chain ceramides interfere with C16-ceramide-induced channel formation: A plausible mechanism for regulating the initiation of intrinsic apoptosis. Biochim. Biophys. Acta - Biomembranes, 1848(2): 561-567.
J. Stiban, G.A. Farnum, S.L. Hovde and L.S. Kaguni. (2014) The N-terminal domain of the Drosophila melanogaster mitochondrial DNA helicase contains an iron-sulfur cluster and binds DNA. J. Biol. Chem. 289(35): 24032-24042.
S.N. Pinto, E.L. Laviad, J. Stiban, S.L. Kelly, A.H. Merrill Jr., M. Prieto, A.H. Futerman and L.C. Silva (2014) Changes in membrane biophysical properties induced by sphingomyelinase depend on the sphingolipid N-acyl chain. J. Lipid Res. 55(1):53-61.
L.C. Silva, O. Ben David, Y. Pewzner-Jung, E.L. Laviad,  J. Stiban, S. Bandyopadhyay, A.H. Merrill Jr, M. Prieto and A.H. Futerman (2012) Ablation of ceramide synthase 2 strongly affects biophysical properties of membranes. J. Lipid Res. 53(3):430-436.
S. Samanta, J. Stiban, T.K. Maugel and M. Colombini (2011) Visualization of ceramide channels by transmission electron microscopy. Biochim. Biophys. Acta - Biomembranes 1808(4):1196-1201.
Y. Pewzner-Jung Y, H. Park, E.L. Laviad, L.C. Silva, S. Lahiri, J. Stiban, R. Erez-Roman, B. Brugger, T. Sachsenheimer, F. Wieland, M. Prieto, A.H. Merrill Jr and A.H. Futerman (2010) A critical role for ceramide synthase 2 in liver homeostasis: I. alterations in lipid metabolic pathways. J. Biol. Chem. 285(14):10902-10910.
J. Stiban, R. Tidhar and A.H. Futerman (2009) Ceramide Synthases: Roles in Cell Physiology and Signaling, In:'Sphingolipids as Signaling and Regulatory Molecules' Landes Bioscience (Publication date 15/2/2010)
J. Stiban, L.C. Silva and A.H. Futerman (2008) Ceramide-containing membranes: the interface between biophysics and biology. Trends Glycosci. Glycotech. 20(116): 297–313.
J. Stiban, L. Caputo and M. Colombini (2008) Ceramide synthesis in the endoplasmic reticulum can permeabilize mitochondria to proapoptotic proteins. J. Lipid Res. 49(3): 625-634.
J. Stiban, D. Fistere and M. Colombini (2006) Dihydroceramide hinders ceramide channel formation: Implications on apoptosis. Apoptosis. 11(5): 773-780.