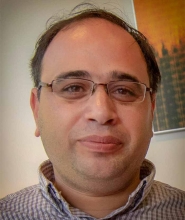 Faculty Member - Department Of Physics
Prof. Abdallah Sayyed-Ahmad joined the department of physics at Birzeit University in the Fall of 2010. Prior to arriving to Birzeit University, he was a postdoctoral fellow at the medical school at the University of Texas Health Science Center in Houston. He also was a postdoctoral associate at Department of Chemical Engineering and Materials Science at the University of Minnesota during 2006-2009. He started his scientific career as a PhD student with Peter J Ortoleva at Indiana University Bloomington during 2000-2005. He participated in a number of interdisciplinary research projects at the Center for Cell and Virus Theory at Indiana University and elsewhere.
Prof. Sayyed-Ahmad's general research background and interests are in the broad area of mathematical and computational methods for biology, biochemistry and biophysics; the main objective of which is to model the physical and chemical processes underlying biomolecule, virus and cell behaviors. His specific research areas are: molecular dynamics simulations of protein, DNA, lipids, NSAIDS, bile acids and their complex as well as binding free energy calculations, electrostatic effects on macromolecules in electrolyte and intracellular crowded media, Poisson-Boltzmann equation, large-scale metabolic network modeling, microarray data analysis through transcription kinetic modeling and information theory, chemical kinetics, applications of information theory, regularization, linear and nonlinear optimization to calibration problems in biological sciences, large-scale/multilevel finite element solution of elliptic problems.
For more information visit the computational and theoretical biophysics group website: http://physics.home.birzeit.edu/biophysics/index.html
Fatafta H, Poojari C, Sayyed-Ahmad A, Strodel B and  Owen MC  "The role of oxidized Gly25, Gly29 and Gly33 residues on the interactions of Aβ1−42 with lipid membranes", ACS Chemical Neuroscience, accepted, 2020
Khaled M, Gorfe AA and Sayyed-Ahmad A "Conformational and Dynamical Effects of Tyr32 Phosphorylation in K-Ras: Molecular Dynamics Simulation", Journal of Physical Chemistry B, 123 (36), 7667-7675, 2019
Sayyed-Ahmad, A. "Hotspot Identification on Protein Surfaces Using Probe-Based MD Simulations: Successes and Challenges." Current topics in medicinal chemistry, 18(27),  2278-2283, 2018.
Sarkar-Banerjee S, Sayyed-Ahmad A, Prakash P, Cho KJ, Waxham MN, Hancock JF, and Gorfe AA "Spatiotemporal analysis of K-Ras plasma membrane interactions reveals multiple high order homo-oligomeric complexes", Journal of American Chemical Society, 139 (38), 13466-13475, 2017.
Sayyed-Ahmad A, Prakash P and Gorfe AA "Distinct dynamics and interaction patterns in H and K-Ras oncogenic P-loop mutants". Proteins: Structure, Function, and Bioinformatics, 85 (9), 1618–1632, 2017.
Sayyed-Ahmad A and Gorfe AA "Mixed-probe simulation and probe-derived surface topography map analysis for ligand binding site identification", Journal of chemical theory and computation, 13 (4), 1851-1861, 2017.
Prakash P, Sayyed-Ahmad A, Cho, KJ, Dolino DM, Chen W, Li H, Grant BJ, Hancock JF and Gorfe AA "Computational and biochemical characterization of two partially overlapping interfaces and multiple weak-affinity K-Ras dimers", Scientific Reports, 7 (p.40109), 2017.
Sayyed-Ahmad A, Cho KJ, Hancock JF and Gorfe AA, "Computational Equilibrium Thermodynamic and Kinetic Analysis of K-Ras Dimerization through an Effector Binding Surface Suggests Limited Functional Role", Journal of Physical Chemistry B, 120 (33), 8547-8556,2016
Prakash P, Sayyed-Ahmad A and Gorfe AA, "pMD-membrane: A method for ligand binding site identification in membrane-bound proteins.", PLoS computational biology11(10): e1004469, 2015.
Naddaf L and Sayyed-Ahmad A, "Intracellular Crowding Effects on The Self-Association of Bacterial Cell Division Protein FtsZ", archives of biochemistry and biophysics, Archives, 564, 12-19,2014
Bolintineanu DS, Volzing K, Vivcharuk V, Sayyed-Ahmad A, Srivastava P and Kaznessis YN "Investigation of Changes in Tetracycline Repressor Binding Upon Mutations in the Tetracycline Operator", Journal of Chemical & Engineering Data, 59 (10), 3167-3176, 2014
Sader E and Sayyed-Ahmad A, "Design of an optical water pollution sensor using a single-layer guided-mode resonance filter", Photonic Sensors, 3(3):224, 2013.
Prakash P,Sayyed-Ahmad A, Zhou Y, Volk DE, Gorenstein DG, Dial E, Lichtenberger LM and Gorfe AA,"Aggregation Behavior of Ibuprofen, cholic acid and dodecylphosphocholine micelles", Biochimica et Biophysica Acta (BBA)-Biomembranes, 1818(12), 2012.
Prakash P, Sayyed-Ahmad A, Gorfe AA "The Role of Conserved Waters in Conformational Transitions of Q61H K-ras", PLoS computational biology, 8 (2): e1002394. doi:10.1371/journal.pcbi.1002394, 2012
Sayyed-Ahmad A, Lichtenberger, LM and Gorfe AA, "Structure and dynamics of cholic acid and dodecylphosphocholine-cholic acid aggregates", Langmuir, 2010, 26(16):13407-13414.
Sayyed-Ahmad A, Khandelia H and Kaznessis YN "Relative Binding Free Energy Calculations between Antimicrobial Peptides and SDS or DPC micelles", Molecular Simulation, 2009, 35(10-11):986-997.
Sayyed-Ahmad A and Kaznessis YN "Determining the orientation of the Beta-hairpin antimicrobial peptide Protegrin-1 in a DLPC lipid bilayer using an implicit solvent-membrane model", PLoS One 2009;4(3):e479.
Bolintineanu DS, Sayyed-Ahmad A, Davis HT and Kaznessis YN "Poisson-Nernst-Planck models of nonequilibrium ion electrodiffusion through a protegrin transmembrane pore", PLoS computational biology, 5 (1): e1000277, 2009.
Langham A, Sayyed-Ahmad A and Kaznessis YN "On the nature of antimicrobial activity: a model for Protegrin-1", Journal of American Chemical Society, 130(13):4338-4346, 2008
Sayyed-Ahmad A, Miao Y and Ortoleva P "Poisson-Boltzmann Theory of Bionanosystems", Communications in Computational Physics, 3:1100-1116, 2008.
Lee J, Sayyed-Ahmad A, Sheen D "Basin Model Inversion Using Information Theory and Seismic Data", Geophysics 72:6, 2007
Sayyed-Ahmad A, Tuncay K, and Ortoleva P "Transcriptional regulatory network refinement and quantification through kinetic modeling, gene expression microarray data and information theory", BMC Bioinformatics, 8:20, 2007. (Research highlights & Highly Accessed)
Sayyed-Ahmad A, Tuncay K, and Ortoleva P "Efficient solution technique for solving Poisson Boltzmann equation", Journal of Computational Chemistry, 2004, 25(8):1068-1074
Sayyed-Ahmad A, Tuncay K, and Ortoleva P "Toward Automated Cell Model Development through Information Theory", Journal of Physical Chemistry A, 2003, 107(49):10554-10565.
Ortoleva P, Berry E, Fan J , Fontus M, Navid A, Sayyed-Ahmad A, Sharif Z, Stanley F, Tuncay K, Weitzke E, and Wu L "Karyote physico-chemical genome, proteome, metabolome cell modeling system", Omics: A Journal of Integrative Biology, 2003, 7(3):269-283(15).