Dutch Conductor, Palestinian Orchestra Strike Hopeful Chord in New Year
A thriving art music scene was on full display in Naseeb Azeez Shaheen Auditorium on New Years' Eve, as amazing ensembles and local and international artists performed.
Dutch conductor Vincent de Kort leading the Palestine National Orchestra and Palestinian oud virtuoso Simon Shaheen blended their Oriental-western sounds for an incredibly nuanced and expressive performance.
De Kort and the National Orchestra offered authentic performances of classical music, playing Prokofiev's Classical Symphony and Beethoven's Pastoral Symphony No. 6. The musicians followed him to perfection, playing as if on a knife edge.
Shaheen, one of the most important Arab musicians, performers and composers of his generation performed the Palestinian premiere of his Oud Concerto No. 1, offering beautifully rendered music with perfectly coordinated strings.
About the Performers
The Palestine National Orchestra
The members of the Palestine National Orchestra are mostly professional musicians of Palestinian origin. They include performers at leading international orchestras and opera houses, freelance instrumentalists, top-flight studio musicians, and professors teaching at musical conservatoires across the Middle East and further afield.
The group is a festival orchestra, meeting once or twice a year to bring high quality professional music to Palestinian communities, and providing an international platform to promote Palestinian cultural achievements worldwide. Many of the younger players were previously members of the Palestine Youth Orchestra.
After a successful career as a cellist in 1995, Kort, at the invitation of Mariss Jansons, made his debut conducting the Oslo Philharmonic Orchestra. His breakthrough followed in 1997 when he stepped in at the last minute for Gennady Rozhdestvensky with the European Union Youth Orchestra (soloist Radu Lupu) at the Amsterdam Concertgebouw. This rapidly led to further engagements; he has since been invited to perform by a number of prominent opera houses and orchestras.
Vincent de Kort has established himself among the finest Mozart conductors. He is jury chairman of the highly popular TV program "Maestro", and served as principal guest conductor of the Zürich Symphony Orchestra and music director and founder of the international chamber orchestra European Sinfonietta and the Opera Festival Alden Biesen in Belgium.
Simon Shaheen is one of the most important Arab musicians, performers, and composers of his generation. His work incorporates and reflects a legacy of Arabic music, while it forges ahead to new frontiers, embracing many different styles in the process. This unique contribution to the world of arts was recognized in 1994 when Shaheen was honored with the prestigious National Heritage Award at the White House.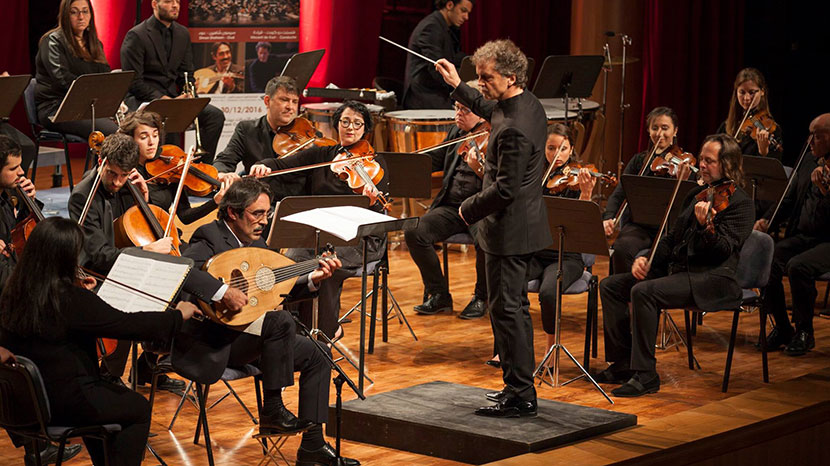 Confirm attendance/participation?:
No