When Will the Smile Return to Our World? Muwatin's 26th Annual Conference
Muwatin's 26th Annual conference will tackle questions related to the repercussions of the outbreak of the Corona virus epidemic at the beginning of the year 2020, and the floundering of most countries in confronting it. The pandemic unveiled many things, and revealed the sham of the neoliberal promise of empowerment, self-realisation, and release of potentials. It became clear that the promised path to empowerment and self-fulfilment depended upon the enslavement of people with chains of debt, consumption, absence of social security, and the lack of security, in addition to a series of economic and political crises. It revealed that governments are capable of intervening and organizing when they so desire. It also revealed that governments' priorities were to invest in security, as the security apparatuses were more prepared for a crisis than the health systems in most countries and at all levels.
Successive crises since the turn of the century have led to increased polarization in the world, heralding the end of the "global village", taking with it the promise of a peaceful world that moves steadily towards democracy and celebrates human rights. Polarization has taken the form of glaring differences in wealth, wars, conflicts, struggle for domination, contempt for international law, and the growth of right-wing populism with increasing fascist tendencies. Naturally, this was accompanied by the growth of various forms of resistance to these transformations in a variety of ways.
The 26th Muwatin Annual Conference will discuss how the world is going through a phase of polarisation and alignment, indicating the existence of a conviction across the world that it is about to enter a new era. these issues will be tackled on the global and the Arab scales by a variety of international and local experts and academics from various backgrounds and regions, from a wide range of perspectives. The conference will leave room for the dialogue between attendants and conference speakers.
The conference will be Held on Friday - Sunday, 25-27 September 2020, through livestreaming on Muwatin's Youtube Channel and Facebook page. It is recommended that you subscribe to our channels in order to receive notifications and reminders for the conference.
By clicking on the links, you can view the concept note, the programme, the abstracts, and the participants list. You can also access these documents through any of the following links:
Facebook.com/muwatininstitute1
Note: Simultaneous translation will be provided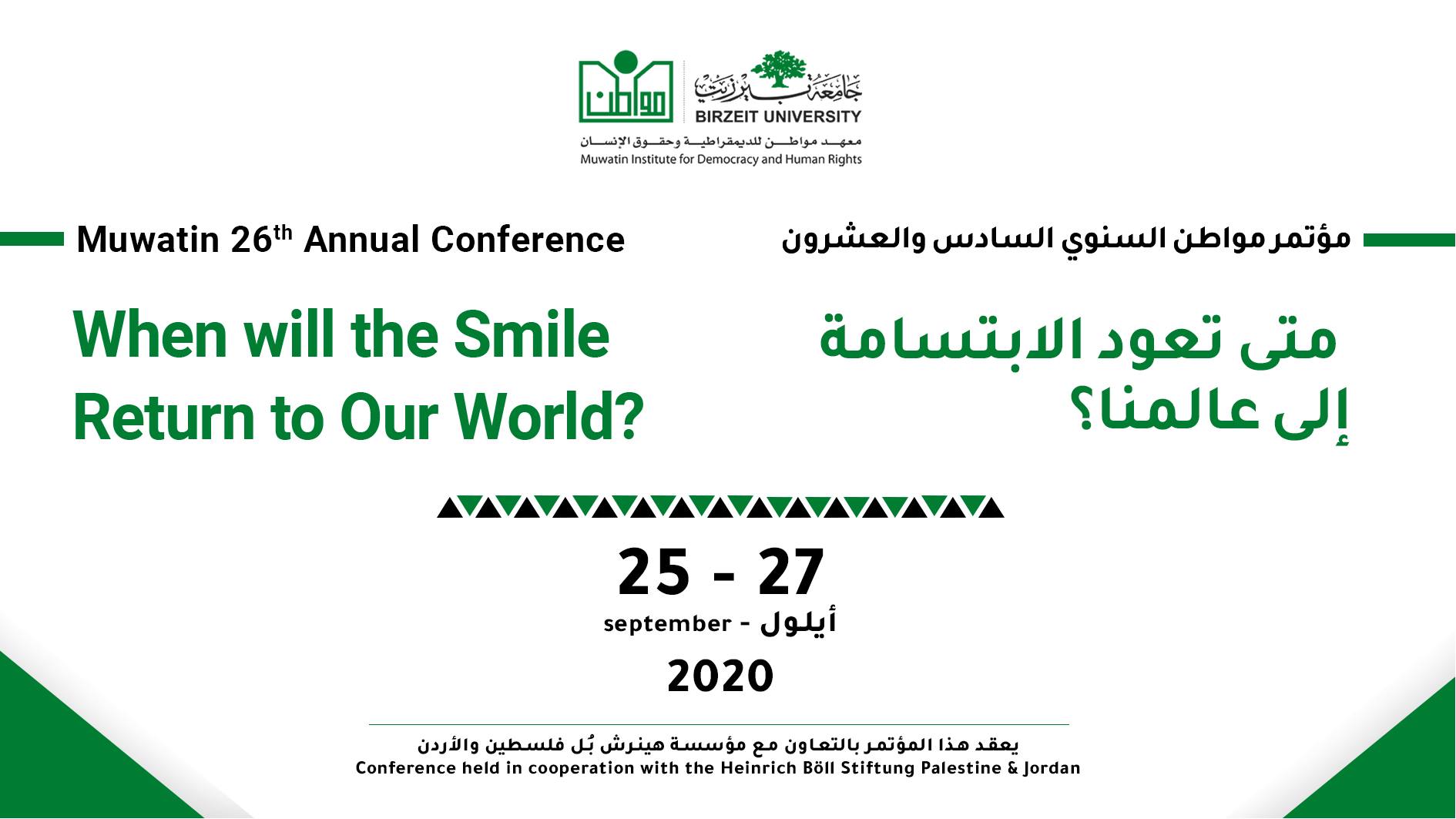 Date:
25 Sep 2020
—
27 Sep 2020
Venue:
Held in the virtual space and live streamed via Muwatin's Channel on YouTube
Confirm attendance/participation?:
No