On the occasion of the celebration for the 500th year from the passing away of Leonardo Da Vinci and the occasion of the Italian Research Day,
We are pleased to invite you to the exhibition 
Italy: The Beauty of Knowledge is an exhibition curated by Riccardo Pietrabissa and promoted and financed by the Italian Ministry of Foreign Affairs and International Cooperation, organized by the National Research Council in collaboration with Fondazione Idis-Città della Scienza in Naples, Museo Galileo in Florence, MUSE Museo delle Scienze in Trento, Museo Nazionale della Scienza e della Tecnologia "Leonardo da Vinci" in Milan.
The Consulate General of Italy is proud to present this exhibition at Birzeit University on the occasion of the celebrations of the genius of Leonardo da Vinci, 500 years on.
This exhibition will lead you to the discovery of the many ways through which Italy can express its scientific excellence.
Italy is famous for its beauty. The beauty of its landscapes, of its cities, of its culture, history and tradition. But this is only the base on which a strong knowledge has been built to reach the most advanced results in many fields, out of which five are represented in the exhibition: health, environment, space, food and nutrition, cultural heritage.
In space observation, for example, a strong link ties Galileo's telescope to the Vega satellite launcher or to Cosmo SkyMed. In the same way, current research on the human body that led to the robotic hand Azzurra, a revolutionary prosthesis that can be controlled by thought, is strongly tied to Paolo Mascagni's nineteenth-century anatomical studies. About environment research, Felice Fontana's eudiometer, an instrument designed at the end of the eighteenth century to measure air purity in public places, kicked off a process that led us to the development of sustainable fibres from food waste, such as the silk-like fabric obtained from orange waste or the synthetic leather obtained from grape marc. When it comes to food, there is no need to reiterate how healthy the Mediterranean diet is, especially Italian traditional food such as tomatoes, olive oil and pasta. But Italian researchers are working to make it even healthier thanks to bioactive and antioxidant substances. You may be aware of the many projects that we have done to protect Palestinian cultural heritage. This stems from extensive Italian research in this field and especially in technologies applied to cultural heritage such as the one that allows you to take a walk through ancient Roman places -  virtually reconstructed - by means of a 3D virtual reality headset.
Beauty and knowledge are not separate and together they represent the creativity and dynamicity that is the hallmark of the Italian way of doing research, perfectly embodied by the genius of Leonardo da Vinci.
This exhibition was already presented in Rome, Alexandria, New Delhi, Singapore, Hanoi and Jakarta.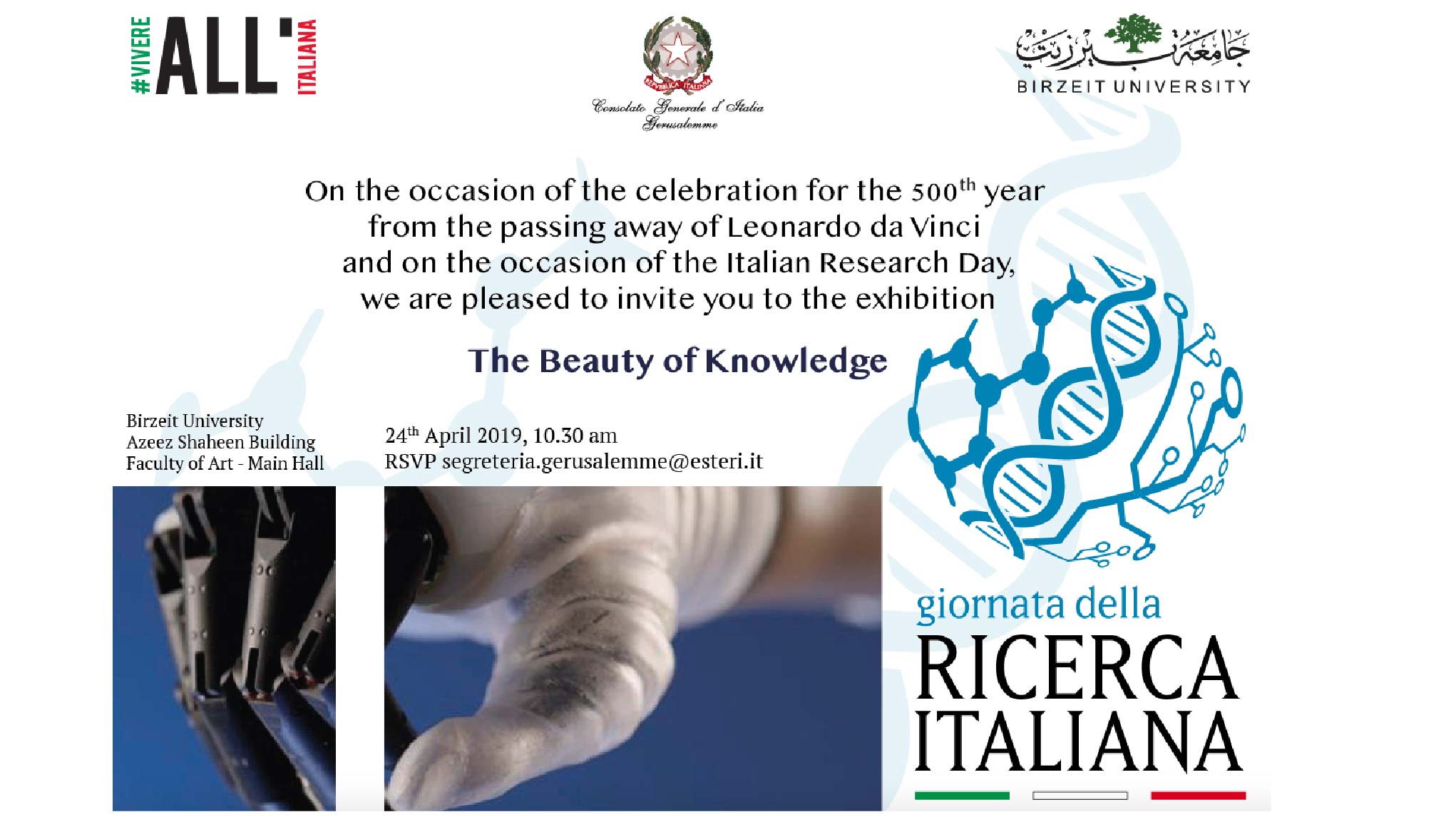 Venue:
Azeez Shaheen Building, Faculty of Art, main hall
Confirm attendance/participation?:
No