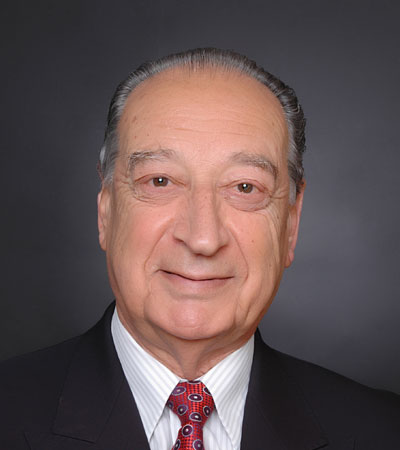 Gabi Baramki
(acting president from 1974 - 1993)
Gabi Baramki received his BA and MA degrees in organic chemistry from the American University of Beirut and his Ph.D. from McGill University in Montreal, Canada.  He was instrumental in establishing the community college program in 1953 as dean of Birzeit College and guided the development of the college into a university in 1972 as vice-president. Later, when the president of the university was deported in 1974 by Israeli authorities, he served as acting president until 1993.
During his tenure as acting president, Birzeit University grew in all respects, increasing the size of its campus and buildings as well as programs and population. He was a founding member of the Palestinian Council of Higher Education and its chairman for several years.
In 1994, Baramki became a special consultant for the first Palestinian Ministry of Education and concurrently the secretary general of the Council of Scientific Research and the Chairman of the QIF (Quality Improvement Fund) Board.  He served as president of the Palestinian Council of Justice and Peace and was a member of Pugwash Conferences and World Affairs (which was a Noble Peace laureate in 1995) and was elected for two five-year periods as a member of its Council (1992-2002).
Baramki was a founding member of the PEACE program (Palestinian European Academic Cooperation in Education), a cooperation project between Palestinian universities and over 40 European universities.  He was also a founding member of PACBI (Palestinian Academic and Culture Boycott of Israel) program, a non-violent program of resisting Israeli occupation, and was active in its ranks until his death in August 2012.  He was also a member of Birzeit University's Board of Trustees, the consultative board of the Edward Said National Conservatory of Music, and the board of Muwaten.
The French Ministry of Education in 1993 awarded Baramki the Palm Academique (Officier) Medal in recognition of his contribution to Palestinian education.   Palestinian President Mahmoud Abbas posthumously awarded him the Palestinian medal "Wissam Al Istihqaq Watammuz" in recognition of his life work for Palestinian education and for his contribution to the national struggle.