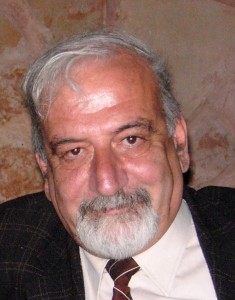 Aghazarian graduated from Birzeit College, which would later become Birzeit University, in 1970. He took lead of the university's Public Relations Office in 1979, a position he would hold until 2002.
Aghazarian stood out when he coordinated the Palestinian delegation's media efforts in the 1991 Madrid Conference alongside Dr. Hanan Ashrawi. In recognition of his efforts to raise international awareness on Jerusalem and Palestine, Aghazarian was awarded a medal by King Albert II of Belgium, taking his place among fifty other highly-influential people who were honored by King Albert. (Source: the Palestine News & Info Agency – Wafa).
 Nowadays, Aghazarian carries out research studies; delivers lectures; and provides simultaneous translation for conferences, symposiums, and high-level political meetings.