BERC at BZU
The Birzeit University Business and Economic Research Center (BZU BERC) was set up in 2016 as part of the activities of Erasmus's BERC project "Develop Business and Economic Research Centers Capacity at Palestinian Higher Education Institutions (BERC)" aims to support research and innovation within the Faculty of Business and Economics at BZU as well as researchers and students through fostering academic interaction with colleagues in other departments, local universities and colleagues internationally. It also aims to promote exposure to state of the art research techniques and methodologies as well as improving access to academic journals and other publications. Furthermore, BZU BERC works to enhance the collaboration with the local community, including the private sector, policy makers and civil society to produce relevant research and aid in the development of local communities.

BZU BERC Vision
The Birzeit University Business and Economic Research Center (BZU BERC) aspires to be the trusted source of high quality and objective business and economics related research utilizing a convergence of local and international expertise.
BZU BERC Mission
The BZU BERC seeks to utilize its resources comprised of staff and students that are already engaged in research and consulting efforts coupled with continuous input and communication with private sector and international agencies. This will be carried out through coordinated efforts from the Faculty of Business and Economics, the Faculty Advisory Council (comprised of 9 private sector CEOs, 4 department chairpersons, 2 MA program directors, the dean, and assistant to the dean), the Training and Employment Unit, and Cooperative Education Program. These sources will provide the contact points with the private sector and communicative mechanism whereby solutions can be offered.

The BZU BERC provides solutions in the form of research studies in both an academic and practical capacity through utilizing local staff competencies and international expertise. BZU's strategic network of partners encompassing private sector entities, public and semi-public institutions, in addition to international and local development agencies and NGOs is key to the effectiveness of the BERC
Scientific Research
A cornerstone of any university, scientific research is a priority area in general and particularly as it relates to the fields of business and economics. A pipeline stemming from undergraduate and graduate courses in addition to staff interests will successfully benefit from as well as add value to BERC.
The BZU BERC will engage in research in the various areas prioritized by the Faculty. This includes enhancing entrepreneurship, business efficiency, strengthening of the productive sectors' capacity and economic development of local communities.
The BZU BERC has already started to work on a research project involving book reviews on the issue of development within Palestine. These reviews will be published in specialized peer-reviewed journals.
Several meetings were conducted at BZU BERC following workshops held at various partner European universities. These universities include the University of Almeria – Spain, Royal Institute of Technology, Sweden, University of L'aquila in Italy (see pictures).
These workshops focused on disseminating research tool and techniques learned at these workshops to colleagues at the Faculty as well as discussion of how to integrate these techniques in the mechanisms of teaching (see pictures).
Projects and Consultancies
In addition to the scientific research component, applied research in the form of projects and consultancies to societal stakeholders such as the private sector, local and international NGOs, and the public sector are key to the strategic partnership and success of BERC.
One project that has already commenced at BZU BERC involves assessing student selection of university subjects at university. The project will examine the rational behind the students' selection of topics of study, based on their geographical location, gender, family education, income and other variables. The aim of this project is to provide insight into why students make the choices they do, particularly that these choices impact the higher education sector in general as well as the labor market.
Outreach and Media
The engagement of the community is another key element of BERC. Promoting cooperative efforts, and publishing data and studies can not only create value for beneficiaries, but motivate partnerships and more joint efforts.
The project kick off meeting was held at BZU in March 21-22. Another event was conducted in cooperation with Al-Quds Open University in Palestine to introduce BZU BERC as well as Al-Quds Open University BERC. The meeting was attended by representatives of the private sector community in the Ramallah and Jerusalem areas (see pictures).
Academics from the Faculty of Business and Economics participate in international workshops as part of Erasmus+ BERC
As part of Erasmus's BERC project (Developing the Capacity of Business and Economic Research Centers at Palestinian Higher Education Institutions) academics from the Faculty of Business and Economics at Birzeit University participated in two workshops in research methods at the University of Almeria in Spain as well as the University of L'aquila in Italy.
This project is in partnership with the Islamic University in Gaza, Al-Quds Open University, Almeria University in Spain, L'aquila University in Italy, Royal Institute of Technology in Sweden, and the University of Huddersfield in the UK.
The workshops took place over the period from May 8th -19th 2017. The first workshop focused on the management side of business incubators and research centres. The second workshop tackled issues related to research methods with a particular focus on big data and the statistical package R.
A computer lab at the Faculty of Business and Economics has been equipped as part of this project and a summer school will be run on research methods during the break.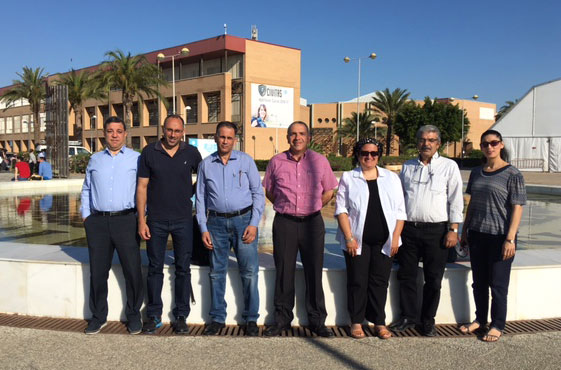 مشاركة مجموعة من اساتذة/ات كلية الاعمال والاقتصاد في ورشات عمل دولية كجزء من مشروع ايراسموس – بيرك
شارك مجموعة من اساتذة واستاذات كلية الاعمال والاقتصاد في ورشتي عمل في كل من جامعة لاكويلا في ايطاليا وجامعة المريا في اسبانيا خلال الفترة من 8 – 19 ايار 2017. وتأتي هذه المشاركة ضمن مشروع ايراسموس – بيرك والذي يعنى بدعم القدرات البحثية لكليات الاقتصاد والاعمال في الجامعات الفلسطينية.
وتشارك جامعة بير زيت في هذا المشروع مع مجموعة من الجامعات الفلسطينية (الجامعة الاسلامية في غزة، وجامعة القدس المفتوحة) بالاضافة إلى كل من جامعة لاكويلا في ايطاليا، وجامعة المريا في اسبانيا، وهادرسفيلد في المملكة المتحدة، وكلية التكنولوجيا والعلوم في السويد.
وقد ركزت ورشات العمل على ادارة مراكز البحث وحاضنات الاعمال وكذلك على مناهج البحث التطبيقي بالتركيز على البيانات الكبيرة ونموذج أر للتحليل.
وقد تم تجهيز مختبر كمبيوتر في كلية الاعمال والاقتصاد كجزء من هذا المشروع وتخطيط لورشات عمل في فترة الصيف حول مناهج البحث لكل من الطلاب والاساتذة.
Data and Studies
The establishment of a trusted source for data and information related to a variety of business and economics related topics and matters is paramount to enhancing the value offered by BERC to local and international visitors.
The project currently conducted at BZU BERC involving the study of student's selection of topics of study at the university involves the gathering of primary data from students by students. This data will be made available for researchers for further study and analysis as well as to the university administration in order to take its results into account while planning for the future.
Research Team
Faculty researchers, along with students, at both the graduate and undergraduate levels, will combine their collective efforts across a number of disciplines within the business and economic world, as well as beyond. Researchers from outside the Faculty and Birzeit University are also key to this element so as to make any and all research efforts applicable and as generalizable as possible.
| | | | | |
| --- | --- | --- | --- | --- |
| Research Group Title | Description | Main Goal | Sub- Groups Titles | Group Members |
| | | | | |
| Applied Research in Economics and Business | To conduct research in relevant economic and business related issues including economic development, business incubators, trade and business and sectoral issues. | To examine different ways in which research can add value to relevant economic and business concerns within Palestine and to feedback this research into generating knowledge for educational purposes. The research group also aims to engage students and local business in understanding and articulating the needs and responses. | Economic development, business incubators, women entrepreneurship policies, leadership, Human resource management, organizational behavior, marketing, performance measurement, internationalization, strategy, financial inclusion, behavioral finance, Information technology and business | Grace Khoury, Omar Omran, Nujoud Habash, Antone Sabella, Youssef Naser, Yousef Hassan, Samia Botmeh, Samir Baidoun, Mirabo Shammas, Suhail Sultan, Fairouz Darwish, Shireen AlBasha, Wojdan Farraj, Maunice AlFar , Bayan Arqawi, Niveen Eid, Mira ElFar, Amal Nazal |