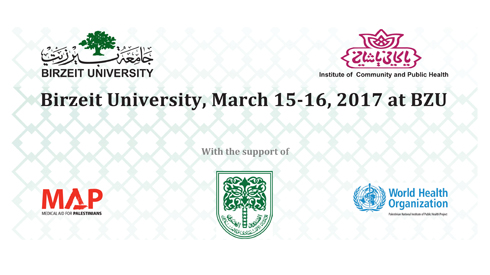 The Institute of Community and Public Health (ICPH) at Birzeit University (BZU), is pleased to invite you to attend The 8th Lancet Palestinian Health Alliance (LPHA) Conference entitled "Health of Palestinians".
The conference will be held on March 15-16, 2017  from 8:30 am till 5:50 pm and will be hosted by ICPH at Birzeit University/Naseeb Azeez Shaheen Auditorium. 
The LPHA comprises a collaboration of Palestinian, regional and international researchers, committed to the highest scientific standards in describing, analyzing and evaluating the health and health care of Palestinians, in order to contribute to the international scientific literature, local reports, and to develop local evidence-based policy and practices.
The 2017 LPHA conference will focus on various issues relevant to Palestinian health including health system research, non-communicable diseases, women's and child health, mental health and political violence and health among other themes. 
To register, we kindly ask you to let us know if you will be attending the conference by sending us your response to the following email address: [email protected], or by telephone at: 02-2982020 or Fax, at 02-2982079, no later than March 12th , 2017.
We look forward to your participation in this conference.
Thank you
The Lancet Palestinian Health Alliance Coordination Team/ ICPH/BZU